The beaches in Athens feature crystal clear waters and sand-fringed shorelines that are easily accessible to the public from the city centre. Greater Athens features the longest coastline of any European capital, with Athens' beaches consistently awarded Blue Flag status for their high standards in water quality and cleanliness.
Summer and swimming in Greece is a sacred ritual and most Greeks count the number of swims they have achieved for the season. Many of the beaches in Athens are referred to as "organised" which simply means they offer amenities such as toilets, changing rooms and sun-beds. The majority of beaches are free to enter, but will usually charge a fee for the use of sun-beds and beach umbrellas. You're not obliged to use the furniture and all are welcome to enjoy the beach, just don't forget your towel!
Other beaches, can be found as part of a complex or beach club that provide excellent facilities, including bars or restaurants, water and beach activities and are ideal for those with limited time. Suitable for solo travellers, couples, families and groups.
Astir Beach Club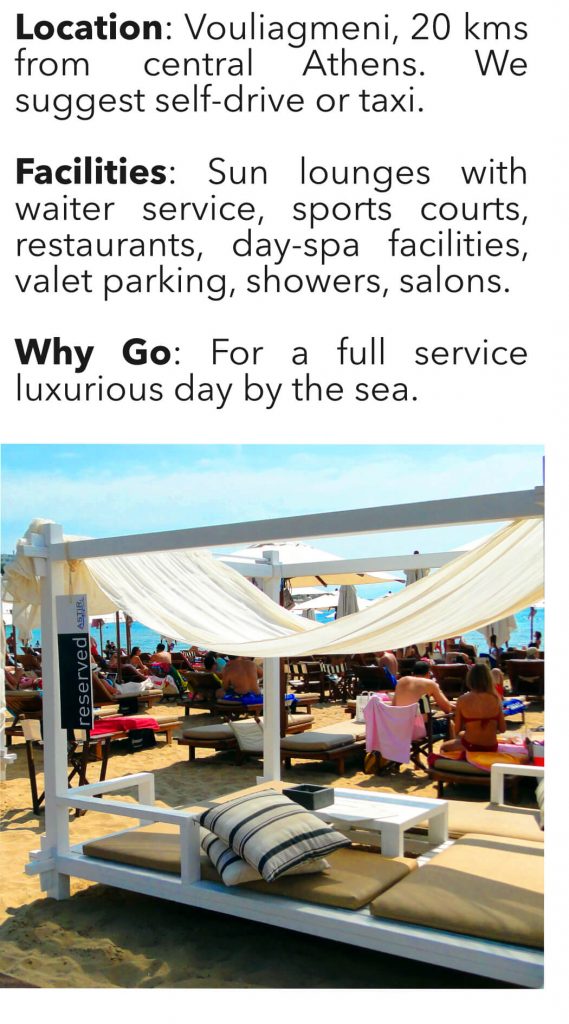 One of the most exclusive beach clubs in Greece, Astir Beach is set on 300 metres of coastline in the crystal blue waters of the exclusive Laimos peninsula. Astir Beach is open to the public but for a significant entry fee, the upside being the facilities are in pristine condition and the service level is high.
Everything you could wish for is here; small designer boutiques, massage therapists and attentive beachside food and drink service. Full dining restaurants are also a few steps away. The scattering of ancient ruins on display reminds you which city you are in.
Water sports, yoga on the beach, this is how the other half live. Bungalows can be reserved and you should call in advance. Bring your best body and gear with you.
Address: 40 Apollonos, Vouliagmeni
For the taxi driver: Astir Beach Aπόλλωνος 40, Βουλιαγμένη
Opening times: 8:00am-9:00pm Club remains open till 12.00am (seasonal operating hours apply) T: +30 210 89 01 619
Getting there: Click here for an Athens Riviera & Beaches Bus Tour
Akti Vouliagmenis Beach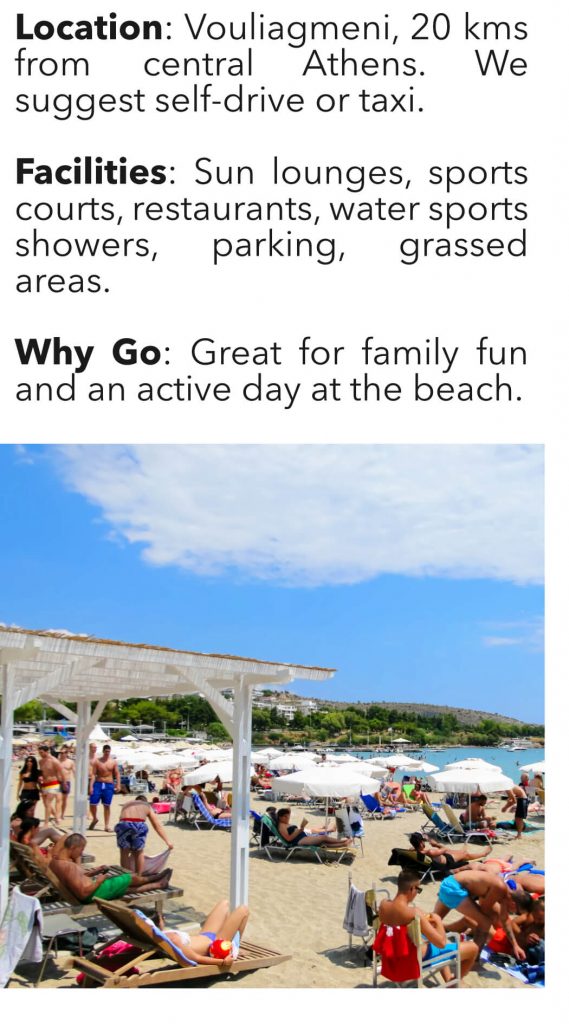 Large well-kept lawns surround this beach. Many play on the outdoor courts, which include tennis, volleyball and basketball. Others set up small picnics away from the busy shoreline.
Akti Vouliagmenis is an ideal location to spend outdoors if you have a family with kids or enjoy being active. Offering a full range of amenities; first aid station, a kid's playground, elegant beach chairs and umbrellas plus free Wi-Fi.
A short walk up the beach is a seaside fish taverna ideal for lunch or dinner and basic food and drink kiosks are on-site.
Address: 2 Poseidonos Ave, Vouliagmeni
For the taxi driver: Ακτή Βουλιαγμένης, Ποσειδώνος 2 & Απόλλωνος
Opening times: 8:00am-8:30pm (seasonal hours apply)
Getting there: Click here for an Athens Riviera & Beaches Bus Tour
Athines by the Sea Beach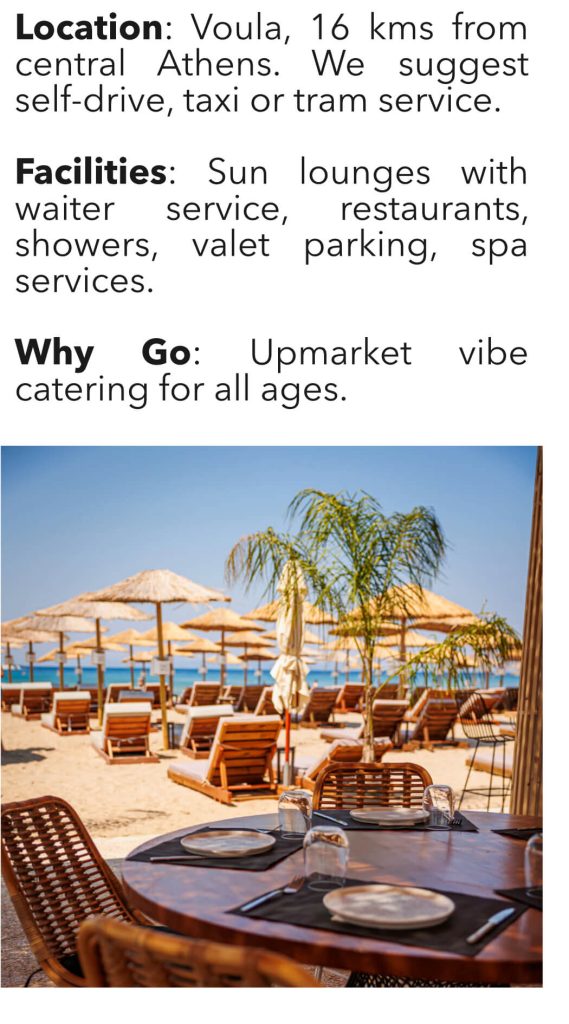 Step up your beach game at Athines by the Sea. This luxurious coastal beach park is the new addition to the upmarket Voula district. You will find shops, restaurants, nail spa, massage facilities and late night beach parties. Family friendly with comfort at the forefront. Book your sun lounge in advance via their free App. https://beachbooking.app/#HOME
Address: Leoforos Alkionidon 4, Voúla
For the taxi driver: Λεωφ. Αλκυονίδων 4, Βούλα
Opening times: From 9am daily until late
Getting there: Click here for an Athens Riviera & Beaches Bus Tour
Yabanaki Beach – Varkiza Resort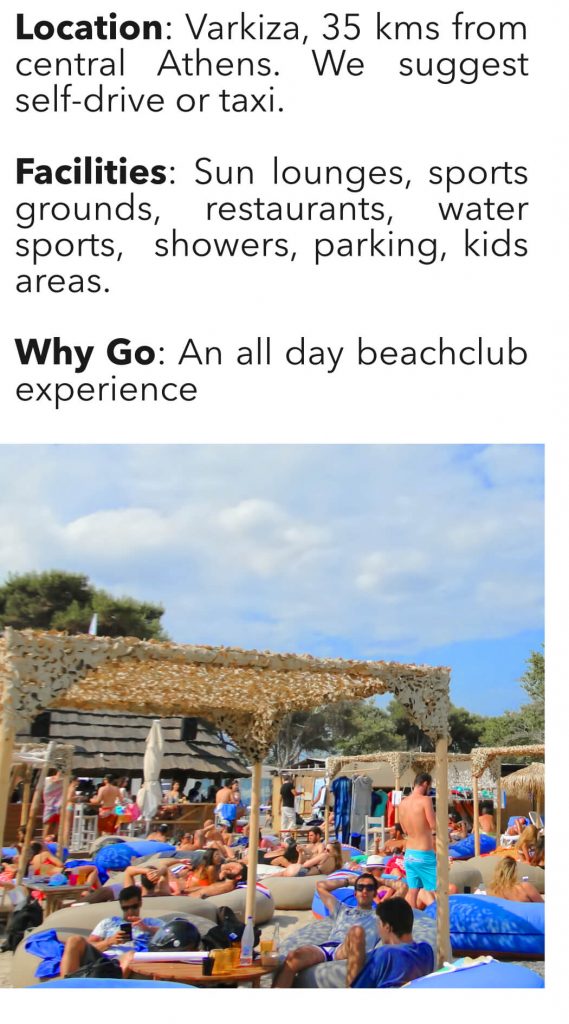 One of the largest beach clubs on the riviera, the Varkiza Resort offers a selection of restaurants and facilities that make it a comfortable family day at the beach.
With a beachside souvlaki eatery, pizzeria and sushi bar, it makes every effort to please. Beach tennis and a children's water park are also available along with a quiet area used for wellness and massage. There's a big take up of water sports such as windsurfing and water skiing.
You will need to pay extra for your sun bed and umbrella but you will find it all here in one place. Partygoers can stay until late.
Address: Vari, Varkiza Coast
For the taxi driver: Ακτή Βαρκιζασ
Opening times: 8:00am – 7.00pm (seasonal hours apply)
Lake Vouliagmeni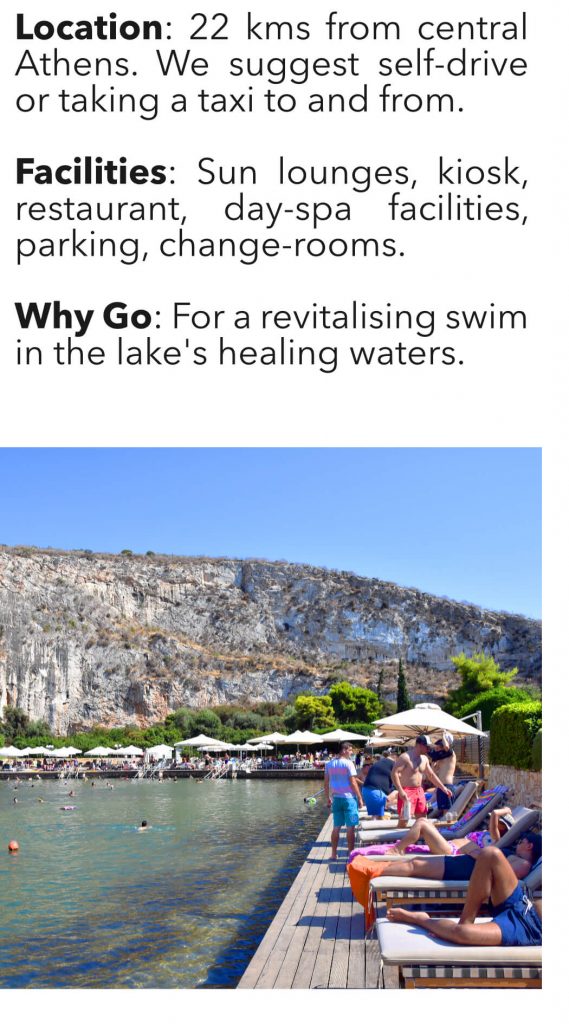 Although not a beach, it is worth a visit for an out of the ordinary and thoroughly enjoyable swim. Sitting beneath the remains of a limestone cavern, it offers a tranquil and peaceful environment. The lake itself is fed by underground springs and also by the sea.
The combination of salt and mineral-rich freshwater feels silky when you swim and is reportedly good for rheumatism and arthritis. The water temperature is balmy at 25 degrees celsius and is ideal to swim any time of the year. Hydro-therapy facilities along with relaxing body treatments are tempting.
Facilities include; a coffee shop, beach chairs and umbrellas. There is also an a-la-carte restaurant open each evening.
Address: Vouliagmeni Lake, Vouliagmeni Attica
For the taxi driver: Λίμνη Βουλιαγμένης, Βουλιαγμένη
Opening times: 7:00am-8.00pm, Restaurant 8.00pm – 1.00am T: +30 210 896 2237
Getting there: Click here for an Athens Riviera & Beaches Bus Tour
OTHER ATHENS BEACHES WORTH VISITING
Krabo Beach
Located in the secluded Zoska Bay within the affluent suburb of Kavouri, you can expect to find the very cool crowd of Athens here, who also enjoy dining and drinking at 'Krabo', the latest all-day beach bar and restaurant that is operated by the exclusive Margi Hotel. Expect a tight squeeze during peak summer season. Pre-book sun-beds or cabanas at least 48 hours in advance or if you're organised enough, one week prior to avoid disappointment.
Address: Thespidos St, Vouliagmeni
For the taxi driver: Όρμος Ζώσκα, Θέσπιδος, Βουλιαγμένη,
Opening times: From 8:00am. Restaurant/bar open until late, reservations: T. +30 210 896 3309
Getting there: Click here for an Athens Riviera & Beaches Bus Tour
Niriides Beach – Zen Beach Club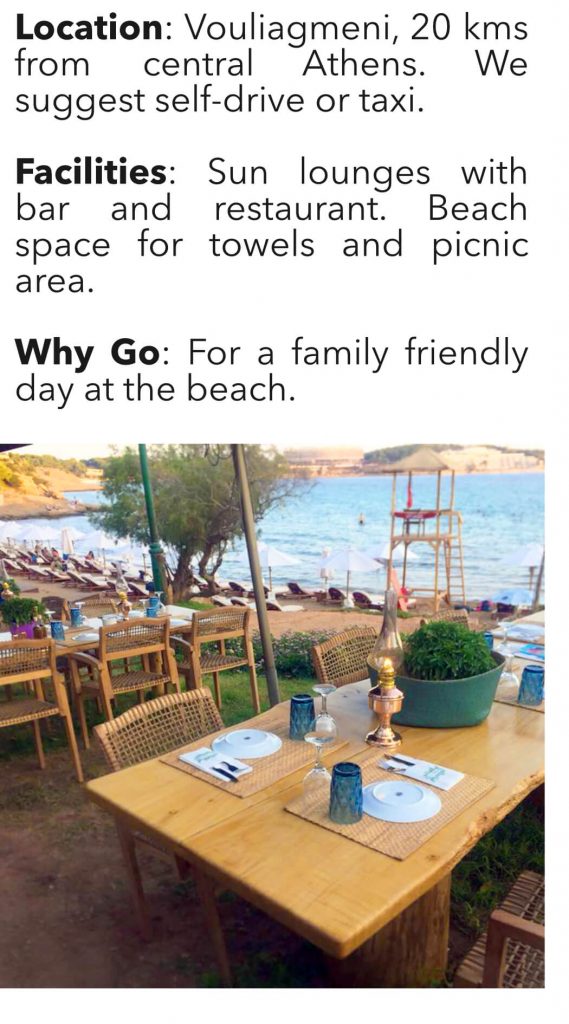 Nestled in the cove of the Vouliagmeni peninsula, Zen Beach provides a relaxed family friendly atmosphere with a fully serviced beach with sunbeds and umbrellas. This seaside location is popular with Athenians who like to picnic in the vast open green space that leads onto the beach. The Zen Beach restaurant serves good quality seafood and attracts a large crowd every day. Advanced reservations for sunbeds and restaurant bookings highly recommended.
Address: Vakchou, Vouliagmeni
For the taxi driver: Zen Beach, Οδός Τέλος Βάκχου (Πρώην) Νηρηίδες Βουλιαγμένη
Opening times: From 8:00am – 1:00am, Restaurant bookings: T. +30 210 967 096, Sunbed reservations: T. +30 697 815 4415
Getting there: Click here for an Athens Riviera & Beaches Bus Tour
Kavouri Beach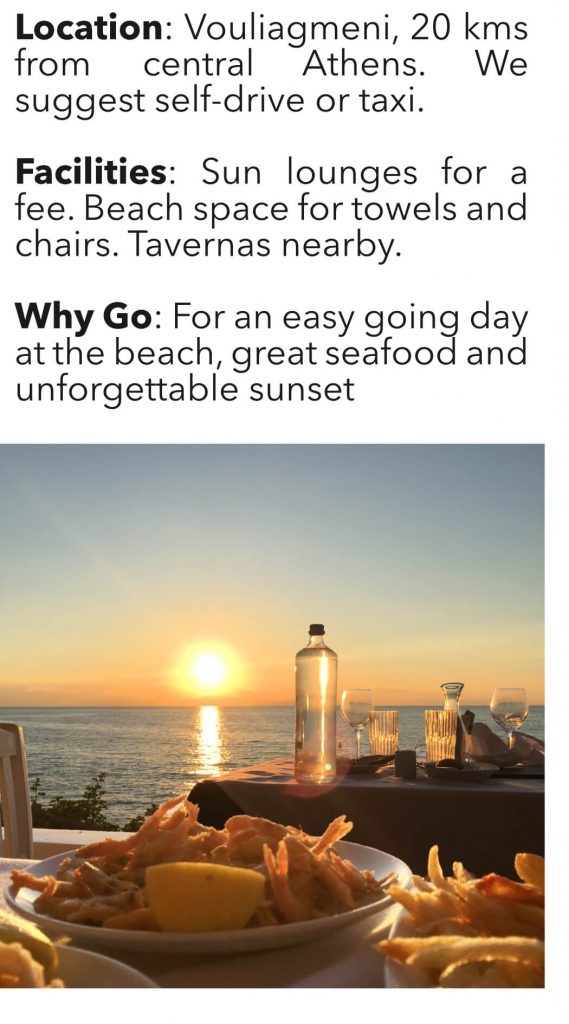 Amid its forest like vegetation, the organised beach of Kavouri is found in the lush, green surrounds of Vouliagmeni that is popular with locals and guests from nearby hotels. Kavouri beach is well-kept and you'll be swimming in crystal clear waters. Sunbeds and umbrellas (equipped with nifty mobile phone chargers) are available and make the experience as comfortable as ever. You can hire a small boat with a driver, to explore the tiny inlets and islands around the coastline, like Fleves and Hydroussa or spend the day paddle-boarding. The biggest decision of the day will be choosing which seaside taverna you will eat at.
Where: 10 Iliou St, Vouliagmeni
For the taxi driver: Ηλίου 10, Βουλιαγμένη
Open: 8:30am – 8:30pm
Getting there: Click here for an Athens Riviera & Beaches Bus Tour
The inlets of Limanakia – Lefteris' Canteen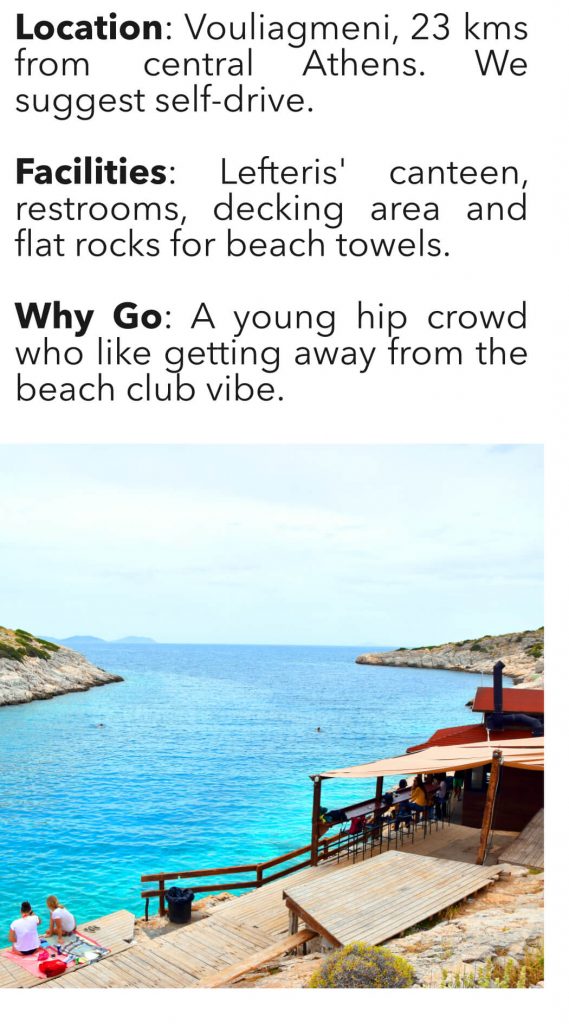 Limanakia, are a series of beautiful coves with deep blue waters, offering a more rustic swimming experience with no sunbeds or umbrellas. Suitable for adventurers and experienced swimmers, these small hidden inlets are found below the main coastal road in Vouliagmeni, leading to Varkiza. By foot, follow the rocky paths down towards the sea. Look out for Lefteris' canteen who is famous (at least on social media) and popular with hip, young Athenians. Expect an island like party atmosphere during peak summer, open until late.
Where: Limanakia (beach inlets), Leoforos Poseidonos, Vouliagmeni, *Lefteris' Canteen: Found in the 2nd inlet
For the taxi driver: Λιμανακια, Βουλιαγμένη
Getting there: Click here for an Athens Riviera & Beaches Bus Tour (the bus will go as far as Lake Vouliagmeni which is about 10 minutes by foot)
Why Athens Tip

s
You'll find less crowds during the week compared to the weekends
An orange flag means there is a lifeguard on duty usually between the hours of 10:30am-5:30pm
A red flag means there is no lifeguard on duty
Take care when sun-baking especially between 12noon and 4.00pm when the sun is at its hottest
Always swim clear of corridors designated for boats and avoid swimming close to marine buoys
Strong summer winds blow during the months of July and August, you should always be aware of strong tides and currents when entering the water
This post was not sponsored in any way and as always, all opinions are our own.