Athens beaches feature crystal clear waters and sand-fringed shorelines that are easily accessible to the public. Greater Athens features the longest coastline of any European capital and this year, 16 beaches from the broader Attica basin were awarded 'Blue Flag' status for their high standards in water quality and cleanliness.
The Blue Flag beach award (blueflag.org) is considered the gold standard for beaches and certifies over 4,000 beaches and marinas around the world. Awarded by the Foundation for Environmental Education (FEE), the Blue Flag is internationally recognised and ensures best practices are upheld in water quality, environmental management and sustainability. Greece was awarded 519 Blue Flags this year, bringing it in second place out of 47 countries.
We've chosen the beaches that are easily accessible from the centre of Athens. They are our pick of the best 'city' beaches that can be accessed by car or public transport. We hope you find this guide useful and hope it inspires you to get yourself into the beautiful waters of the Aegean Sea. After all, water is indeed life.
Our top 5: Best Athens beaches and swimming spots
Astir Beach Club
This beach club is set on 300 metres of coastline in the crystal blue waters of the exclusive Laimos peninsula. Astir is open to the public but for a significant entry fee, the upside being a less crowded and more relaxing day by the sea.
Everything you could wish for is here; small designer boutiques, massage therapists and attentive beachside food and drink service. Full dining restaurants are also a few steps away. The scattering of ancient ruins on display reminds you which city you are in.
Water sports, yoga on the beach, this is how the other half live. Bungalows can be reserved and you should call in advance. Bring your best body and gear with you.
Address: 40 Apollonos, Vouliagmeni
For the taxi driver: Astir Beach Aπόλλωνος 40, Βουλιαγμένη
Opening times: 8:00am-9:00pm Club remains open till 12.00am T: +30 210 89 01 619
www.astir-beach.com | Best Athens Beaches
Akti Vouliagmenis Beach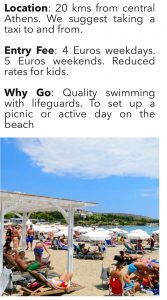 Large well-kept lawns surround this beach. Many play on the outdoor courts, which include tennis, volleyball and basketball. Others set up small picnics away from the busy shoreline.
Akti Vouliagmenis is an ideal location to spend outdoors if you have a family with kids or enjoy being active. Offering a full range of amenities; first aid station, a kid's playground, elegant beach chairs and umbrellas plus free Wi-Fi.
A short walk up the beach is a seaside fish taverna ideal for lunch or dinner and basic food and drink kiosks are on-site.
Address: 2 Poseidonos Ave, Vouliagmeni
For the taxi driver: Ακτή Βουλιαγμένης, Ποσειδώνος 2 & Απόλλωνος
Opening times: 8:00am-8:30pm
www.vouliagmeni-akti.gr | Best Athens Beaches
Asteras Beach – The House Project
An upmarket complex offering good value for money. For an 8 Euro entry fee Asteras offers beach chairs and umbrellas, lockers, changing rooms, showers, trampolines, a kids playground, a self- service restaurant, three bars and water sports.
Choose between the sandy beach or ritz it up at the Balux seaside pool, bars and restaurants and stay long after sundown.
Address: 58 Poseidonos Ave, Glyfada
For the taxi driver: Αστέρας Γλυφάδας Ποσειδώνος 58
Opening times: 9.00am-7.00pm, Restaurant 9.00am – 3.00am T: +30 210 898 3577
www.baluxcafe.com | Best Athens Beaches
Yabanaki Beach – Varkiza Resort
Having recently undergone a refurbishment, the Varkiza Resort offers a selection of restaurants and facilities that make it a comfortable day at the beach.
With a beachside souvlaki eatery, pizzeria and sushi bar, it makes every effort to please. Beach tennis and a children's water park are also available along with a quiet area used for wellness and massage. There's a big take up of water sports such as windsurfing and water skiing.
You will need to pay extra for your sun bed and umbrella but you will find it all here in one place. Partygoers can stay 'til late.
Address: Varkiza Coast
For the taxi driver: Ακτή Βαρκιζασ
Opening times: 8:00am-7.00pm
www.varkizaresort.gr | Best Athens Beaches
Lake Vouliagmeni
Although not a beach, it is worth a visit for an out of the ordinary and thoroughly enjoyable swim. Sitting beneath the remains of a limestone cavern, it offers a tranquil and peaceful environment. The lake itself is fed by underground springs and also by the sea.
The combination of salt and mineral-rich freshwater feels silky when you swim and is reportedly good for rheumatism and arthritis. The water temperature is balmy at 25 degrees celsius and is ideal to swim any time of the year. Hydro-therapy facilities along with relaxing body treatments are tempting.
Facilities include; a coffee shop, beach chairs and umbrellas. There is also an a-la-carte restaurant open each evening.
Address: Vouliagmeni Lake, Vouliagmeni Attica
For the taxi driver: Λίμνη Βουλιαγμένης, Βουλιαγμένη
Opening times: 7:00am-8.00pm, Restaurant 8.00pm – 1.00am T: +30 210 896 2237
www.limnivouliagmenis.gr | Best Athens Beaches
Why Athens Tip

s
An orange flag means there is a lifeguard on duty usually between the hours of 10:30am-5:30pm
A red flag means there is no lifeguard on duty
Take care when sunbaking between 12noon and 4.00pm when the sun is at its hottest
Always swim clear of corridors designated for boats and avoid swimming close to marine buoys
Strong summer winds blow during the months of July and August, you should always be aware of strong tides and currents when entering the water
This post was not sponsored in any way and as always, all opinions are our own.
Map Details:
A) Akti Vouliagmenis Beach, B) Asteras Beach, C) Astir Beach Club, D) Lake Vouliagmeni, E) Yabanaki Beach