The genie is out of the bottle, there is no turning back. AI is here to stay. Inevitably, it will form a large part of the travel planning space, so with that in mind, it was time for me to take it out for a test drive and see just how good its advice is for organising a visit to Athens. As an Athens destination expert and writer, have I been superseded by a robot? Not quite, but it's early days.
There are a few ChatGPT powered travel planning tools out there already. I decided to go with the vanilla version. I confess, I was sceptical at first but once you start engaging with your new virtual friend, the speed at which it can spit out information is impressive.
First step was to give my ChatGPT a name, which I decided would be Pericles. You begin by giving some background on yourself which is supposed to provide better answers. For the sake of this test case, I thought I would pose as a first-time visitor to Athens. I write,
"I am visiting Athens, Greece for the first time. I love good food and wine and reading about history. I have been wanting to climb the Acropolis ever since I can remember. I want to learn as much as I can before I arrive, to get the most out of my visit."
I gave Pericles permission to speak to me in a casual and friendly manner and drop all the formalities. I did consider telling him that I was British royalty to see how he would address me and what social graces he might conjure up, but I stuck to the task at hand.
"Can you provide a four-day itinerary of Athens, Greece for a first-time visitor. I am visiting in September and love good food, music and live theatre. I also want to see major sites and museums over the four days."
Pericles responds in less than three seconds,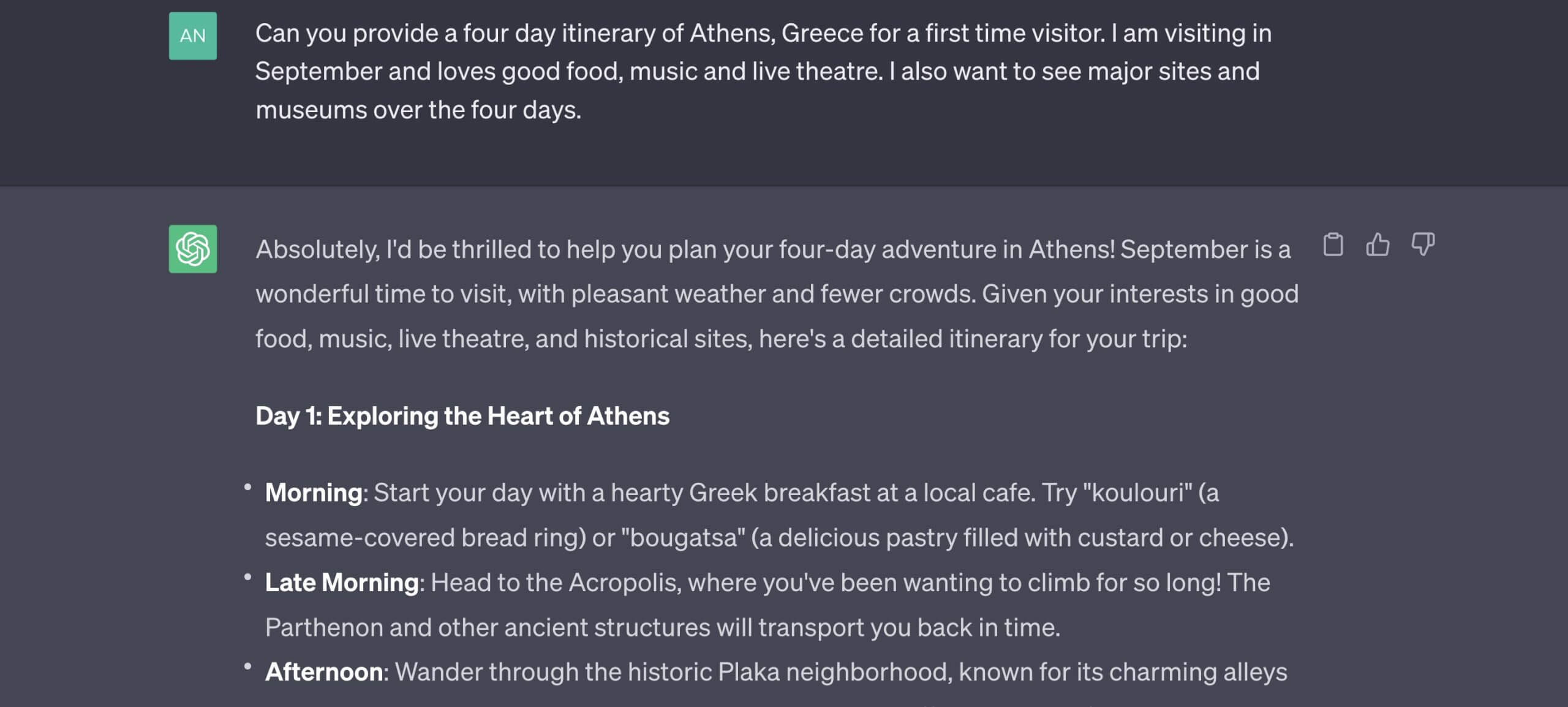 "Absolutely, I'd be thrilled to help you plan your four-day adventure in Athens! September is a wonderful time to visit, with pleasant weather and fewer crowds. Given your interests in good food, music, live theatre, and historical sites, here's a detailed itinerary for your trip."
THE AI 4-DAY ITINERARY TO ATHENS
Day 1: Exploring the Heart of Athens
Morning: Start your day with a hearty Greek breakfast at a local cafe. Try "koulouri" (a sesame-covered bread ring) or "bougatsa" (a delicious pastry filled with custard or cheese).
Late Morning: Head to the Acropolis, where you've been wanting to climb for so long! The Parthenon and other ancient structures will transport you back in time.
Afternoon: Wander through the historic Plaka neighbourhood, known for its charming alleys and traditional shops. Have a leisurely lunch at a taverna offering classic Greek dishes.
Evening: Enjoy live music at a bouzoukia venue. This is the perfect opportunity to experience Greek music and dance in a lively atmosphere.
Day 2: Ancient and Modern Art
Morning: Visit the National Archaeological Museum to delve deeper into Greece's rich history. The museum houses an impressive collection of artefacts from various periods.
Late Morning: Head to Monastiraki Square and explore the flea market. You might find unique souvenirs and local crafts.
Afternoon: For lunch, savour some traditional Greek meze (small plates) at a local taverna.
Evening: Attend a live theatre performance at the Odeon of Herodes Atticus. The ancient amphitheatre offers an unforgettable backdrop for performances.
Day 3: Cultural Immersion
Morning: Start your day with a visit to the Benaki Museum, which covers Greek history and culture from prehistoric times to the modern era.
Late Morning: Enjoy a relaxed walk through the National Gardens, a lush oasis in the heart of the city.
Afternoon: Satisfy your foodie cravings with a guided food tour in the vibrant neighbourhoods of Psiri and Gazi. Indulge in local delicacies and learn about Greek culinary traditions.
Evening: Head to the Technopolis of Athens for a modern take on Greek music and dance performances.
Day 4: Coastal Beauty and Farewell
Morning: Take a day trip to Cape Sounion to visit the Temple of Poseidon. The stunning views of the Aegean Sea are simply breathtaking.
Afternoon: Enjoy a leisurely seafood lunch by the sea at a taverna in Cape Sounion.
Late Afternoon: Return to Athens and explore the upscale district of Kolonaki for some shopping and coffee at a trendy cafe.
Evening: For your farewell dinner, choose a rooftop restaurant with views of the beautifully illuminated Acropolis. Savor the flavors of Greece one last time.
A perfectly plausible itinerary if not a little broad. I was surprised that it missed visiting the Acropolis Museum over the four days. Its generic suggestions like, enjoy Greek food in Plaka was not that helpful. So, I prodded him for more.
"Pericles, do you have restaurant suggestions in Plaka?"
He punched out a list in two nanoseconds, but it was inaccurate. Some places had either closed down or were actually located in Psyrri. If I was hitting the pavement with this list in 30 degree (Celsius) heat I would be a little agitated by now to say the least, perhaps having to resort to Google reviews, that would no doubt end up being mixed and unconvincing. Ahh the perils of modern travels!
He finishes his response with,
"Remember that these suggestions are based on my knowledge up to September 2021, and while they were known for offering good dining experiences at that time, it's always a good idea to check recent reviews and recommendations to ensure they still meet your expectations. Enjoy your culinary adventures in Plaka!"
My Verdict on AI for Athens
While the A.I. assistant is equipped with an expansive database and programmed to think like a human, it's obvious this technology has a long way to go. I'm confident it will get there, but for now, my job is safe.
The question for now is whether Pericles and I can become long-term friends and work together in the future. Well, we'll never sip an ouzo together but if he can develop a true love for Athens imparting only its authentic side, then there's definitely a good chance.
For now, I bid Pericles farewell. "Yiasou!"
He responds in a warm robotic tone,
"Yiasou! That's a lovely Greek greeting! If you have any more questions or need further assistance, feel free to ask. Enjoy your upcoming trip to Athens and all the wonderful experiences it has in store for you!".