Archaeological scientist Eleni Aloupi-Siotis and her team of expert potters and painters have become renowned in Greece for their skill and workmanship of creating identical replicas of ancient Greek ceramics. Black glazing and Athenian pottery making flourished during the 5th and 6th centuries BC but the methods the ancient Greeks used eluded even the best scholars. Aloupi-Siotis and her team have mastered the craft so much so, that the chemical compositions and microstructures cannot be distinguished from an original artefact. It has prompted top museums around Athens, including the Acropolis and Benaki Museums to commission their work and major auction houses around the world have commissioned replicas to combat the illicit trafficking of antiquities. Why Athens stopped by the THETIS Authentics workshop for an up close view of an ancient art form that was almost lost forever and that puzzled many for centuries.
Pictures and words by Anastasia Mangafas
All ceramics are hand thrown. The clay is sourced from the Attica region of Greece, which is rich in iron and potassium and low in calcium oxides. The ancient Greeks also selected their clays from this region and is the reason why these replicas are so similar in chemical composition to an original. The clay is formed using clay based slips and processed in water.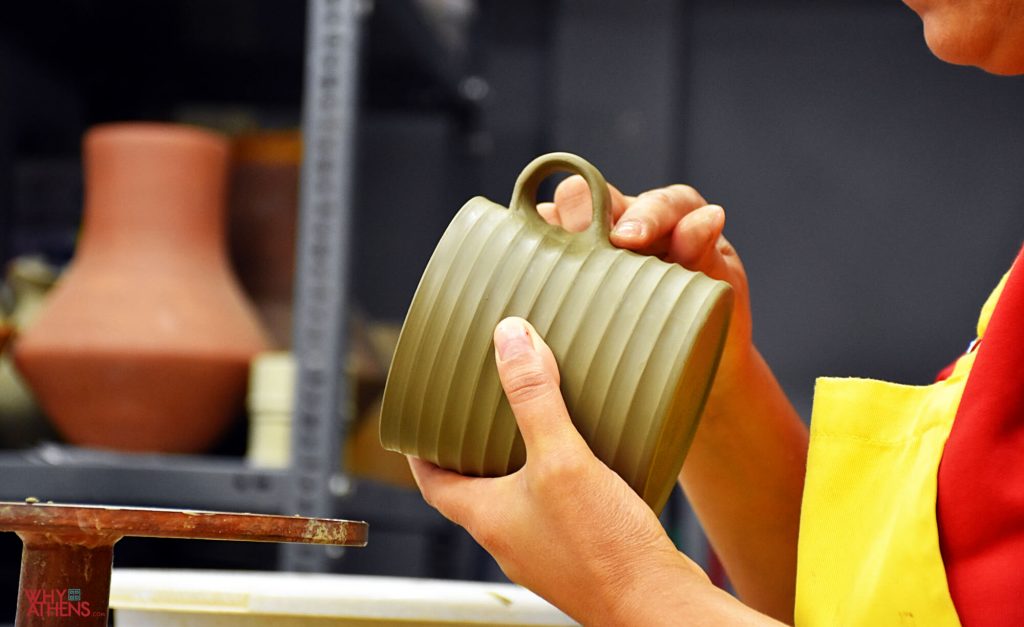 Objects are moulded by hand following the exact shape and size of classical Attic pottery such as these ancient drinking vessels. They are covered with a plastic sheet to dry and 'equalise'.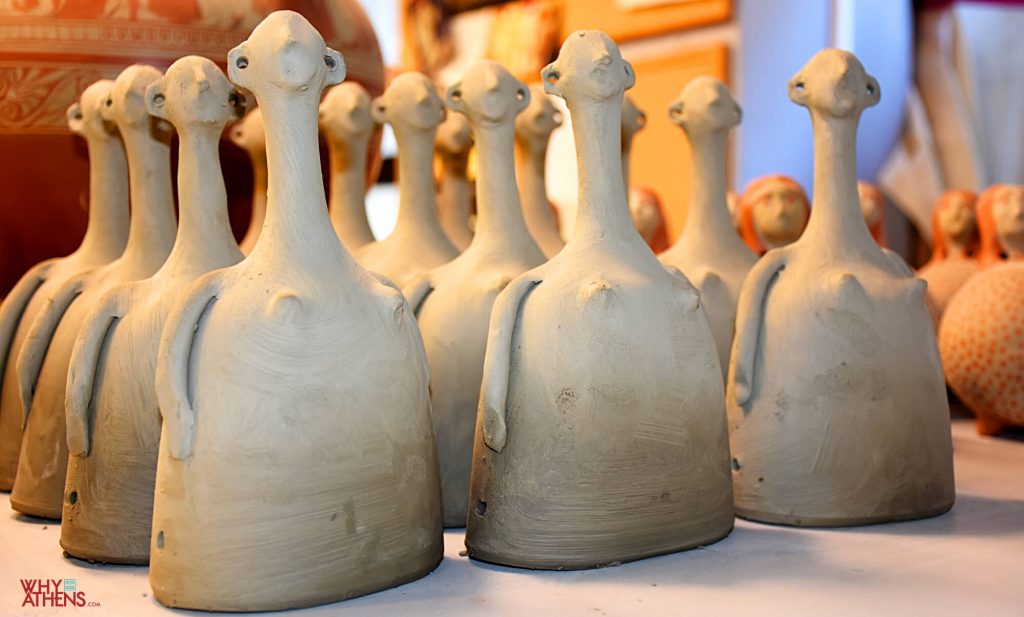 Once dry, the objects will change from a dark grey to a light grey, appearing almost white in colour and are ready for painting.
Using clippings and history books as a guide, an outline of original patterns are drawn in pencil and filled in with paint.
The artist prepares these bell shaped 'Plagon' dolls for the first stage of firing. They are inspired by similar ones made in Boeotia (central Greece) in the 7th century BC. The colour and texture of the decoration will depend on the firing methods used to achieve various shades of red, brown and black.
The ancient manufacturing process known as 'the iron reduction technique' involves successive stages of firing and reducing kiln atmosphere so that oxidisation can occur.
The dolls emerge from the kiln and the colours appear in browns, blacks and whites. The legs are made separately and are attached after firing, with linen or leather strips.
Polychrome threads of wool, faience and decorated ceramic beads complete the personality of each plagon doll.
The ceramic products made by THETIS are available to purchase at their retail store, The Attic Black Shop.
We would like to thank Eleni Aloupi-Siotis and her team at THETIS for their assistance with this article. This post was not sponsored in any way and as always all opinions are our own.