Where:
From Marathon to Athens
Why Go:
Cheer on marathon runners from various vantage points
The Athens Marathon celebrates its 37th year in 2019 on Sunday 10th November with the annual race from the town of Marathon to Athens covering 42.195km's. The finish line for the marathon will be held once again at the iconic Panathenaic Stadium with more than 60,000 runners expected from around the world to participate across 6 different events across two days.
This year the 10km road race will be held one day before on Saturday 9th November in order to allow an increase in the amount of registrations across all of its events. The 5km Road Race and the Athens Marathon itself will still take place on Sunday 10th November.
Registrations are now open for the Marathon, 5km and 10km road race but places are limited to the first 20,000 for the Marathon which is exhausted every year.
Athens Marathon – Race Day
Commencing in the town of Marathon at 9:00am sharp, the start line is located near the ancient burial mound where the 192 Athenians that were killed during the battle of Marathon in 490BC are buried. From there it takes a route the same distance that the ancient runner undertook to deliver the news to Athens that they had won the battle and defeated the 6,400 Persians who had invaded. The route makes its way into the streets of Athens and is a great opportunity to watch some of the best athletes make the final leap to the finishing line in the home of the first modern Olympic Games of 1896. All vantage points are open to the public free of charge including the Panathenaic Stadium where you are best served getting to the venue by 10am onwards to feel the atmosphere and catch the first runners through the stadium around 11am.
The best vantage points around Athens include:
40km mark: outside the Megaron Music Hall
40.4km mark: The Hilton Hotel
41.4 km mark: Presidential Residence, National Garden and Government House
FINISH LINE: Panathenaic Stadium
(See map points below)
Visitors can also participate in either a 10km or 5km road race. (Note: check the official website link here for registration details as entries close once participation limits are reached)
5km Road Race – Athens Marathon
Start time: 8:15am on Sunday 10th November 2019
Starting Line: Amalias Ave in front of Zappeion (Megaron entrance)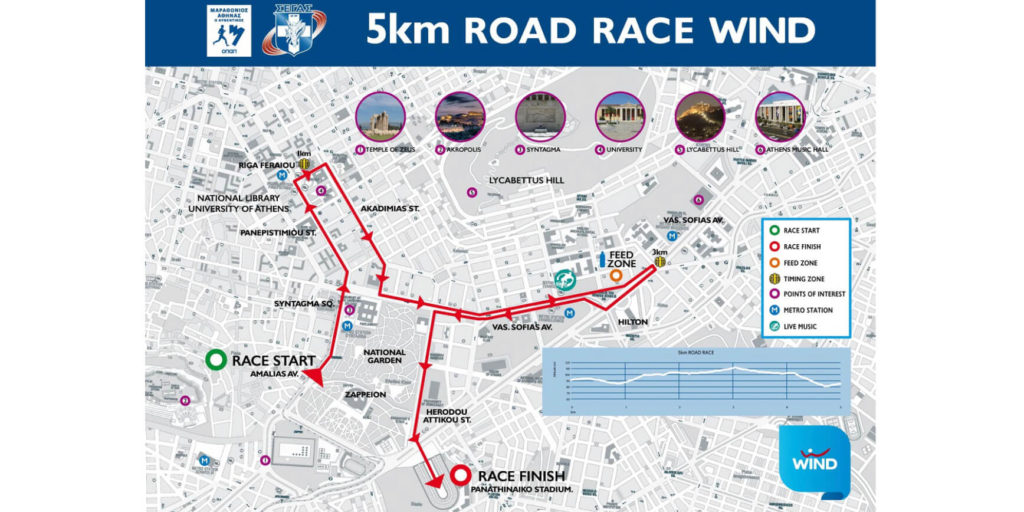 10km Road Race – Athens Marathon
Start time: 5:00pm (17:00) on Saturday 9th November 2019
Starting Line: Amalias Ave in front of Zappeion (Megaron entrance)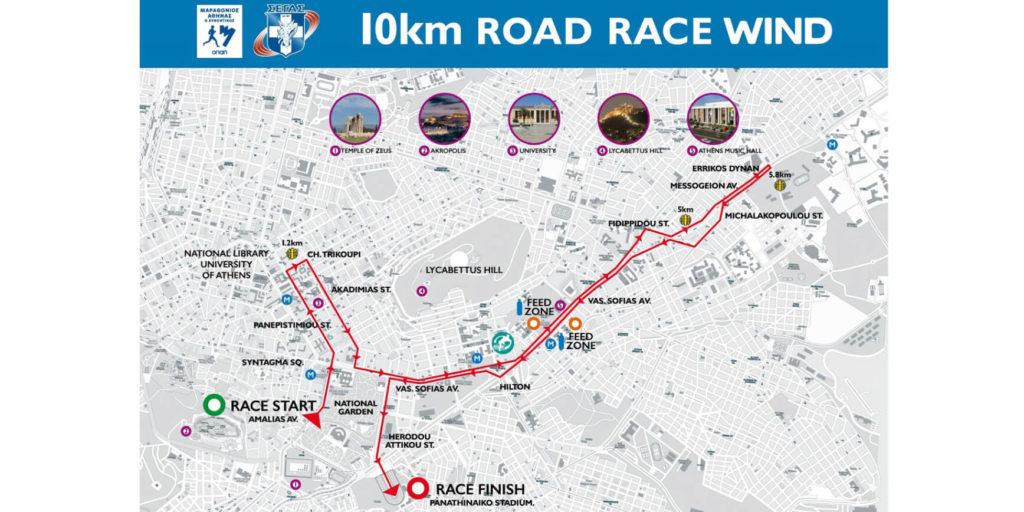 Find more events on in Athens.