An old and discarded depot was transformed into a cathedral of food at the inaugural debut of the Street Food Festival in Athens. Passionate street cooks and delicious food came together under one roof, filling the air with beautiful aromas from all corners of the globe including Asia, Africa, Latin America and of course Greece.
Crowds of people, young and old arrived and it was a testament to the fact that Athens had come such a long way from the days of "ta vromika" or "the dirty" cheap cuts of meat you would find in small street canteens around the city, some ten to fifteen years ago. Today, take a short walk around the city and you will see that Athens has joined the street food revolution that has blossomed all around the world.
It delivers its own brand of street cooked food, drawing from its rich culinary heritage, as well as finally accepting the cuisines that new migration has brought. The well travelled younger generation have also helped to nudge things along.
As I walked past the stalls of food, my nose was having a multi-sensory experience with a riot of different smells entering at once; souvlaki smoked over coal embers, spicy curries and chimichangas. I could see one of the crowd drawers, 'Food Mafia' from Glyfada, shredding Cantonese style pork onto BAO steamed rolls. What city am I in again?
Stavros Striligas, co-founder of the event is tapped into the evolving cultural heartbeat of the city. A born and bred Athenian, he is part of a group who organises cultural events in Athens including the very popular Ejekt Music Festival. He describes the bourgeoning food scene as part of the "new Athens" where locals are now heading downtown to Athinais and Pireos Street, wanting to try new flavours. He felt it was the right time for the Greek capital to launch its own Street Food Festival.
"We wanted to bring to Greece the idea of celebrating street food as it is done all around the world." Stavros Stiligas, festival co-founder
"We've been travelling a lot within Europe, the UK and beyond and we've noticed this is a trend everywhere. With the new Athens as it has become in the last 10 to 20 years, with people from Asia and Africa for example settling here, Greeks are liking the tastes, so we thought we should launch this festival," Stavros said.
In addition to showcasing diverse flavours and tasty food, the festival provides a launching pad for fledgling food businesses and budding entrepreneurs. Georgios Glinos established the mobile 'Food Truck' around 12 months ago, with the tag line, "Don't let the good things pass you by". His truck travels around the outskirts of Athens, serving delicious and healthy Turkish inspired Gözleme, a savoury flatbread that he fills with delicious ingredients. Today he was trying a new recipe, Chickpeas Chana Masala, which was resonating with the vegetarian and vegan crowd, something he sees a growing demand for in Athens.
The main staples on the menu include, feta cheese with greens and Kasseri with soutzouki and tomato. He tells me that all his produce is carefully chosen from small producers around Greece and the Gözleme is sourced from Greek Macedonia.
Surprisingly, Georgios' background was not food related. With a degree in astrophysics and an MBA, he realised his education wasn't going to provide the long well paid career he was hoping for in Greece, something that is a common reality for many graduates today. As he faced unemployment, it was the shake up that propelled him into an entirely different direction.
"This combines my two passions in life, travel and food. We have a very strong organic community on Facebook and established loyal followers, whether we are in the north of Athens or on the other side, we often see the same people."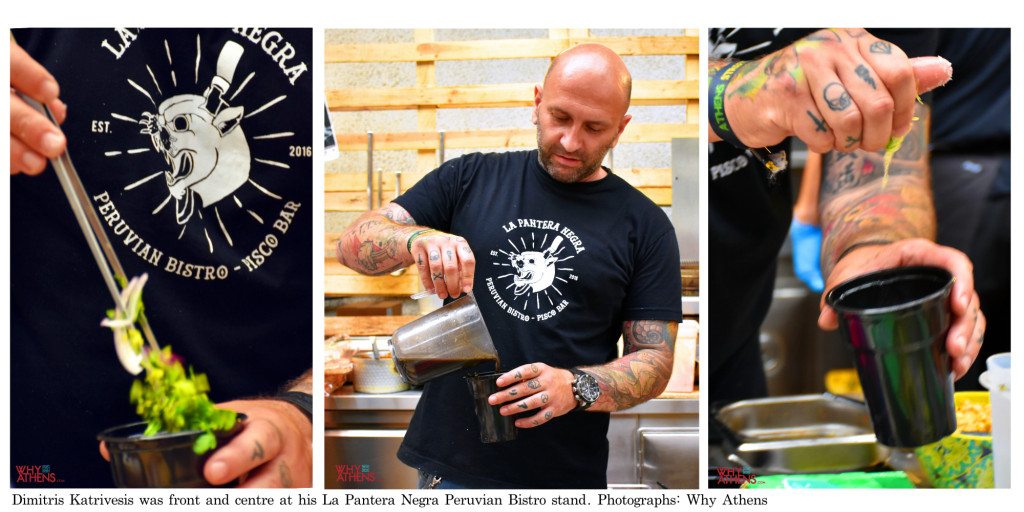 The other big draw cards for the festival were famous Greek chefs imparting their interpretation of street food, including Dimitris Katrivesis, one of the pioneers of the Greek culinary food scene and owner of the Peruvian restaurant 'Mistura' from Mykonos. His 'La Pantera Negra' stand was mixing flavours from Latin America and Asia and was an extension of his pop up Peruvian bistro and pisco bar that sets up around Athens.
After spending a thoroughly enjoyable day at the first Athens Street Food Festival, I could see just how much the emerging food culture is part of the city's reinvention. It was a snapshot of progress. Stavros was right; there was a new Athens, one that has embraced change and all the wonderful flavours that come with it.
This post was not sponsored in any way and as always, all opinions are our own.