The central neighbourhood of Kolonaki is one of the oldest districts in Athens and a must visit if you love to shop or want to spend a relaxing day people watching, whilst sipping a Greek coffee. Kolonaki has seen a new wave of designer shops, café's and restaurants emerge, which are upheld beyond the tourist season by its affluent residents.
From art galleries, luxury brands, hip boutiques and shoe emporiums, what I love about Kolonaki's recent renaissance is the variety of international labels with equally impressive independent Greek designers appearing more and more around the district, bringing a bit more edge and colour to the area.
Shops are spread around this large district, zig zagging up and down small laneways, making it hard to navigate on foot in one day or afternoon. Depending on what you're hoping to find, it may help to earmark a few streets or stores in advance from our detailed guide below.
Recommended food and drink stops in Kolonaki:
Carpo, for dried fruits, nuts and freshly ground coffee on the go, 4 Canari St | Fresh, for delicious French inspired sweets to go, 9 Patriarchou Ioakim St | Yolenis, Greek flavours at this new multi-story café/restaurant with grocery store, 9 Solonos St | Chez Michel, French brasserie where the locals hang,15 Irodotou St | Piatsa, traditional Greek cuisine. Daily specials made from scratch, Plateia Filikis Eterias | Kostarelos, Greek deli and eat in café with delicious sandwiches and salads, 30-32 Patriarchou Ioakim St | Cake, famous for their cupcakes and other delicious sponge cakes, 15 Irodotou St | Alfierre Caffe, a sophisticated 'bar-enoteca-panineria' with Italian style pizzas and superb wine list, popular with the business crowd, 5 Sekeri St.
FEATURED SHOPS
Enny Di Monaco | i-D | Anna Maria Mazaraki | Apivita | Luisa World | Gucci | Hogan | Armani | Balenciaga | Coccinelle | Linea Piu | Bettina | Queen Calliope | Kalfayan | Katsipi | Yiorgos Eleftheriades | Liana Vourakis | Free Shop | Liana Camba | Passion Alley | Mint | Anna Riska | Zilly | Dtales | Matchbox | Thalassa Collection | Mirina Tsantili | Kalogirou | Petridis | Femme Fanatique | Fratelli Karida | Fancy Junior | Nikos Koulis | Ileana Makri | Apriati | Lito | Zoumboulakis | Gallery Skoufa | Ekfrasi | Argo
Hover over map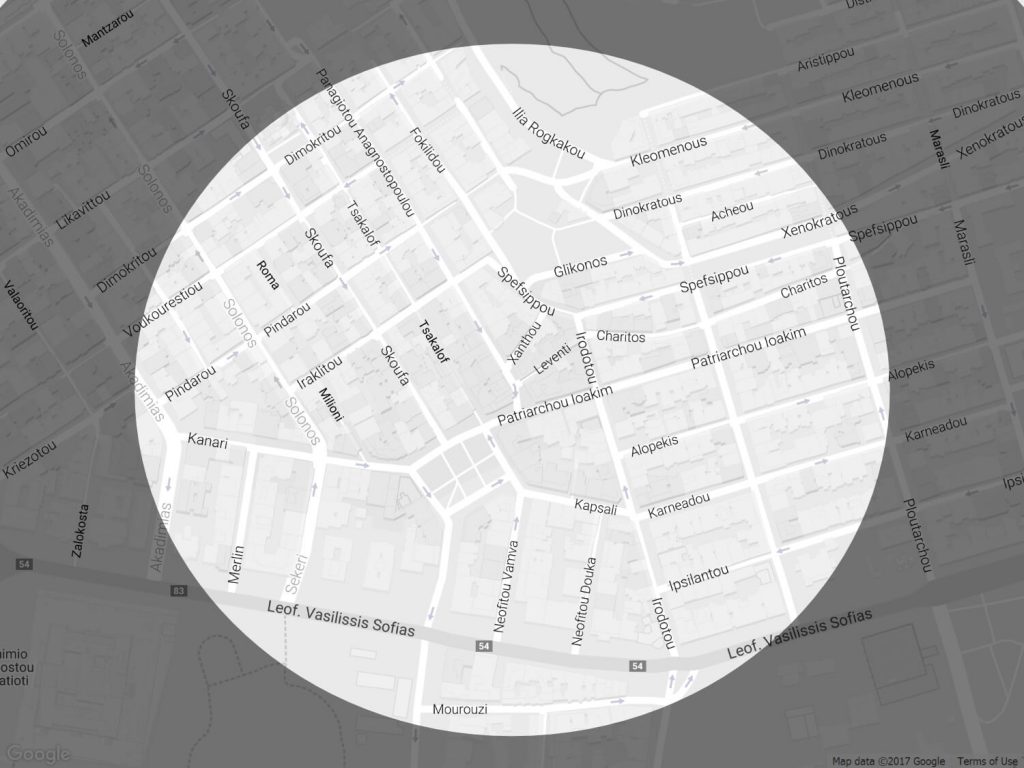 MUST VISIT
If you're short on time, here are five boutiques that shouldn't be missed.
WHERE: Enny Di Monaco, 23 Herodotou St | i-D, 12 Kanari & Sekeri St | Anna Maria Mazaraki, 5 Skoufa St | Apivita, 6 Solonos St
LUXURY BRANDS
For the latest collections in luxury labels, you'll find a good mix in Kolonaki including, Gucci, Hogan, Armani, Balenciaga and Coccinelle. Luisa World is renowned for curating pieces from Lanvin, Céline, Etro and more. Linea Piu is where you go exclusively for Chanel (they also have another outpost in Mykonos).
WHERE: Gucci, 27 Tsakalof St | Hogan, 4 Panagiotou Anagnostopoulou St | Balenciaga, 17 Skoufa St | Coccinelle, 6 Kapsali St | Luisa World, 15 Skoufa St | Linea Piu, 6 Sekeri St
GREEK DESIGNERS AND BOUTIQUES
WHERE: Bettina, 29 Anagnostopoulou St | Queen Calliope, 9 Irodotou St | Katsipi, 43 Anagnostopoulou St | Yiorgos Eleftheriades, 29 Tsakalof St | Liana Vourakis, 42 Pindarou St | Liana Camba, 26-28 Anagnostopoulou St | Passion Alley, 5 Xanthou St | Dtales, 6 Xanthou St | Meant to be Mint, 17 Irodotou St | Anna Riska, Plateia Filikis & Tsakalof 1 | Free Shop, 17 Skoufa St | Zilly, 5 Anagnostopoulou St | Matchbox, 5 Anagnostopoulou St | Mirina Tsantili, 3 Kanari St | Thalassa Collection, 30-32 Patriarch Ioakim St
SHOES
WHERE: Femme Fanatique, 12 Karneadou St | Kalogirou, 4 Patriarchou Ioakim St | Petridis, 2 Levendi & Anagnostopoulou St | Fancy Junior, 9 Kapsali St | Fratelli Karida, 2 Kanari St
Femme Fanatique was established in 2014 creating bespoke shoes for tango dancers. Today, they create the perfect pair of shoes for shoe lovers using the best leathers and craftsmanship. Over 100 colours to choose from with bridal, vintage and of course tango inspired designs. Visit their salon by appointment only. T. +30 211 4099 990
Kalogirou and Kolonaki go hand in hand with its store well established in the centre of the area. This long-standing Greek brand has been part of Athens since 1890. Featuring shoe collections for men and women from some of the most prestigious fashion houses including Prada, Tods and Giuseppe Zanotti. Several other stores around central Athens.
Petridis, another long established Greek brand that began in Athens in 1931. Petridis footwear is produced in Italy with high quality leathers. Classic styles for men and women.
Fancy Junior, for a quality selection of shoes for children, well made in Greece, Spain or Italy.
Fratelli Karida, in addition to its own footwear label, Karida offers a large selection for men and women from prestigious brands like Dolce & Gabbana, Givenchy, Sergio Rossi and others.
JEWELLERY
WHERE: Nikos Koulis, 15 Plateia Filikis Eterias | Ileana Makri, 13-15 Patriarchou Ioakim St | Apriati, 1-3 Patriarchou Ioakim St | Lito, 25 Irodotou St
Nikos Koulis won the Couture Design Award with the "Oui Collection" for two consecutive years. With a family background and business in jewellery, he established is own brand in 2006. His flagship store in Kolonaki showcases his distinctive designs that use the best in precious stones and materials. His collections have been worn by Rihanna, Chrissy Teigen and other celebrities and stocked in New York, Paris, London and other major cities around the world, with additional boutiques in Mykonos and Santorini.
Ileana Makri features her fashionable designs that are often inspired by multi-cultural symbols including the evil eye and includes pieces from other leading designers from around the world.
Apriati, flag ship store in Kolonaki showcases its collections of handmade, fashionable jewellery. Known for their bestselling "7 cords" bracelets with precious stones, Aspriati can be found in high end boutiques in Paris and London with additional boutiques in Spetses and Mykonos.
Lito by Lito Karakostanoglou is one of the emerging talents in fine jewellery, reinterpreting ancient talismans using precious stones. Her cocktail rings in emeralds, peals and a range of high end semi-precious stones are stunning.
LEADING ART GALLERIES
For contemporary art by leading Greek artists, these galleries are well regarded in the local art scene.
WHERE: Zoumboulakis Galleries, 6 Kriezotou St, +30 210 3634 454, Skoufa Gallery, 4 Skoufa St, +30 210 3643 025, Ekfrasi, 9a Valaoritou St, +30 210 3607 598, Kalfayan, 11 Haritos St, +30 210 7217 679, Argo, 5 Neofytou Doula St, +30 210 7249 333
This post was not sponsored in any way and as always, all opinions are our own.
Looking for more great shopping in Athens? Read all about visiting the elegant suburb of Kifissia in Athens.