Where:
Odeon of Herodes Atticus
Why Go:
Don't miss the concert of the year in Athens
Sting will open the annual Athens and Epidaurus Festival in what will be one of the most memorable concerts held at the Odeon of Herodes Atticus, an iconic venue more than 1800 years old, that lies beneath the slopes of the Acropolis.
Performing on this majestic stage for two nights only, composer, singer-songwriter, actor, author, and activist Sting was born in Newcastle, England before moving to London in 1977 to form The Police with Stewart Copeland and Andy Summers. The band released five studio albums, earned six Grammy Awards and two Brits, and was inducted into The Rock and Roll Hall of Fame in 2003.
Throughout his illustrious career, Sting has sold close to 100 million albums from his combined work with The Police and as a solo artist. He has individually received 10 Grammy Awards, two Brits, a Golden Globe, and an Emmy. His latest album, 57th & 9th, was released in November 2016.
The venue: Odeon of Herodes Atticus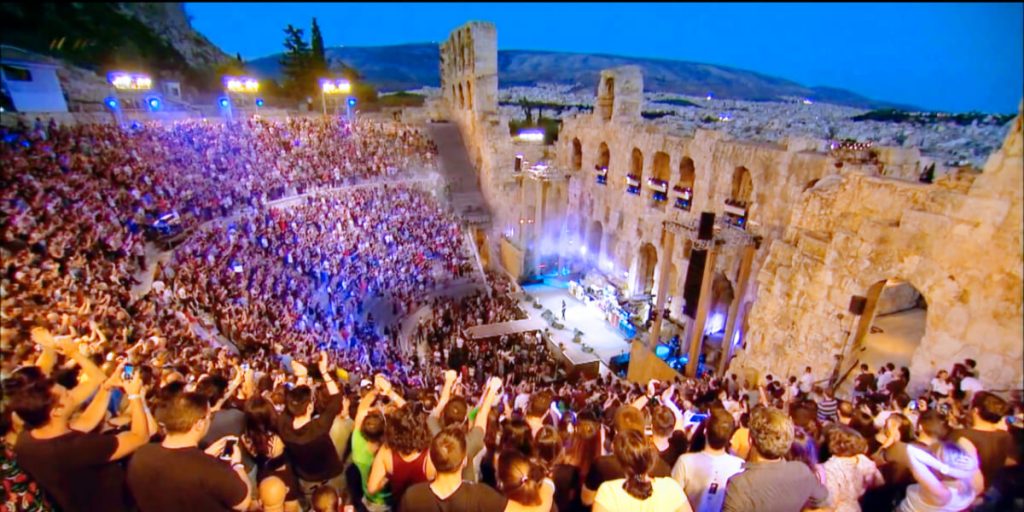 With a capacity of 4,680, this outdoor odeon is a venue with exemplary acoustics and historical significance. This is the second time in its entire history that a rock band has been allowed to perform on its stage, usually reserved for operas and Greek tragedies. The Foo Fighters performed here in the summer of 2017 in what was an unprecedented and historic event.
The Athens & Epidaurus Festival
The Athens and Epidaurus Festival is the city's annual arts festival and a highlight of the Greek summer calendar. With a legacy that spans more than sixty years, today it incorporates a full programme of music, theatre, dance and visual arts that takes place at various venues around the city.
Only two concerts, don't miss out! Sign up to our events mailing list for notifications on when tickets go on sale.
Find more events on in Athens.