We hope you enjoy this introductory reading guide to Greek books by Greek authors. With more and more translations of Greek literature becoming available and thanks to the modern digital age, accessing the works of modern Greek writers has never been easier. Here are a selection of titles we believe are worth sharing with all of you, wherever you are placed in the world. Happy reading.
Greek Books in English – our latest selection of good reading
The Notary
By Alexandros Rizos Rangavis (translation by Simon Darragh)
A wealthy count on his deathbed, his libertine nephew, an upstanding young clerk, and a scheming notary who stops at nothing to protect his daughter make The Notary an iconic tale of suspense and intrigue, love and murder. The classic work of Alexandros Rangavis, The Notary, a mystery set on the island of Cephalonia on the eve of the Greek Revolution of 1821, is Modern Greek literature's contribution to the tradition of early crime fiction, alongside E.T.A. Hoffman, Edgar Allan Poe and Wilkie Collins.
Find this Greek book online here.
ABOUT THE AUTHOR – Alexandros Rizos Rangavis was born in Constantinople in 1809. He was among many things a poet, author, translator and historian of literature. He was a prominent figure in Greece, serving as a professor of archaeology at the University of Athens, minister of Foreign Affairs and ambassador to Washington, Constantinople, Paris and Berlin. Scholars were interested in his various works including Hellenic Antiquities (1842-1855), Archaeologia (1865-1866) and the first History of Modern Greek Literature (1877). The Notary was among his collection of dramatic works. Although he spent a great part of his life abroad, he lived in Athens where he died in 1892.
The Odyssey – by Homer
New English translation by Emily Wilson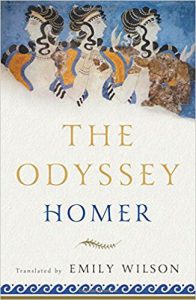 In this fresh and first English translation of The Odyssey by a woman, the stirring tale of shipwrecks, monsters, and magic comes alive in an entirely new way. Written in iambic pentameter verse and a vivid, contemporary idiom, this engrossing translation by Emily Wilson, matches the number of lines in the Greek original, thus striding at Homer's sprightly pace and singing with a voice that echoes Homer's music. The Odyssey is a poem about violence and the aftermath of war; about wealth, poverty, and power; about marriage and family; about travellers, hospitality, and the yearning for home.
Wilson's Odyssey captures the beauty and enchantment of this ancient poem as well as the suspense and drama of its narrative. Its characters are unforgettable, from the cunning goddess Athena, whose interventions guide and protect the hero, to the awkward teenage son, Telemachus, who struggles to achieve adulthood and find his father; from the cautious, clever, and miserable Penelope, who somehow keeps clamouring suitors at bay during her husband's long absence, to the "complicated" hero himself, a man of many disguises, many tricks, and many moods, who emerges in this translation as a more fully rounded human being than ever before.
A fascinating introduction provides an informative overview of the Bronze Age milieu that produced the epic, the major themes of the poem, the controversies about its origins, and the unparalleled scope of its impact and influence. Maps drawn especially for this volume, a pronunciation glossary, and extensive notes and summaries of each book make this an Odyssey that will be treasured by a new generation of scholars, students, and general readers alike.
Find this book online at Amazon here.
Austerity Measures – The New Greek Poetry
A collection of work, translated by Karen Van Dyck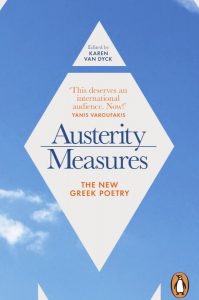 Since the crisis hit in 2008, Greece has played host to a cultural renaissance unlike anything seen in the country for over thirty years. Poems of startling depth and originality are being written by native Greeks, émigrés and migrants alike. They grapple with the personal and the political; with the small revelations of gardening and the viciousness of street fights; with bodies, love, myth, migration and economic crisis.
In Austerity Measures, the very best of the writing to emerge from that creative ferment – much of it never before translated into English – is gathered for the first time. The result is a map to the complex territory of a still-evolving scene and a unique window onto the lived experience of Greek society now.
Find this Greek Book online here
Walking in Athens with Constantine Cavafy
By Constantine Cavafy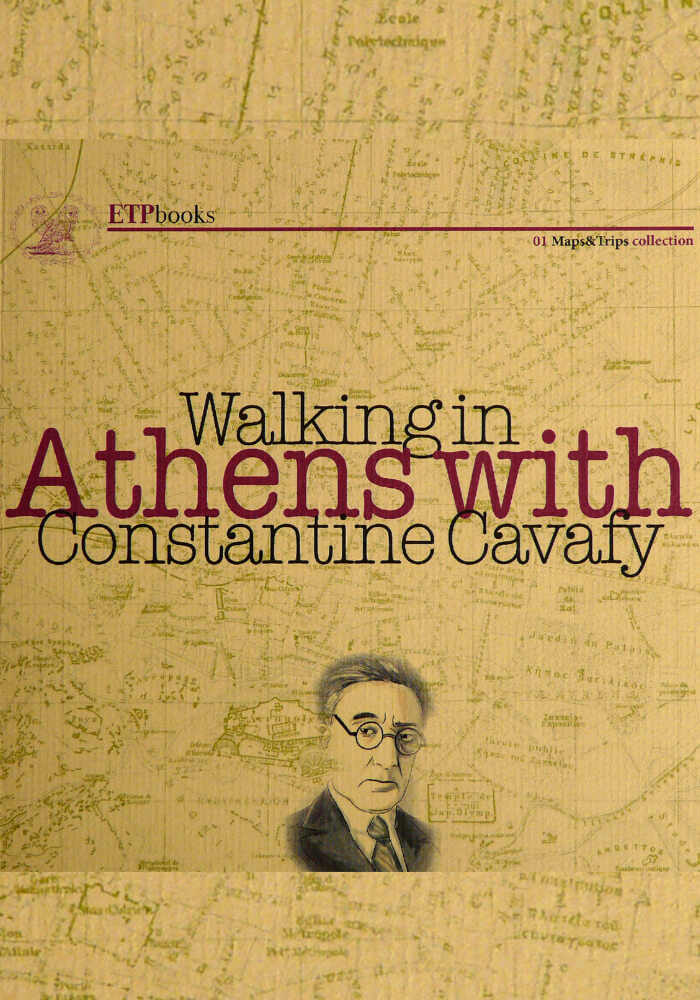 Travelling to Athens with Egyptian Greek poet Constantine Cavafy is a fascinating experience for readers visiting the capital. Despite the fact that 110 years have passed, with dramatic changes occurring in Athens during this time, the city centre has preserved the broad outline of its physiognomy. The urban grid, shaped like a large isosceles triangle, dating back to the time of King Otto, is still the most obvious trait of Athens, while the large public buildings that are visited today would have been seen by Cavafy in the same way. The majority of changes occurred in the archaeological zone which at the time of Cavafy, was still partially inhabited. Many theatres, cafes and buildings mentioned in this book no longer exist, being unable to survive the historical watershed between 1922 and 1949, which effectively marks the start of a new chapter in the history of Athens. A map that is included with this edition, has among other things, the intent to introduce the reader to this dual path between the Athens of today and the Athens of yesterday, that was described by Cavafy.
CONTEXT: Constantine Cavafy was an Egyptian Greek poet, journalist and civil servant. He travelled for the first time around Greece in the summer of 1901 during a leave of absence from his job. The poet was 38 years old and was accompanied by his brother Alexandros.
Find this Greek book online here
The Oberon Anthology of Contemporary Greek Plays
Various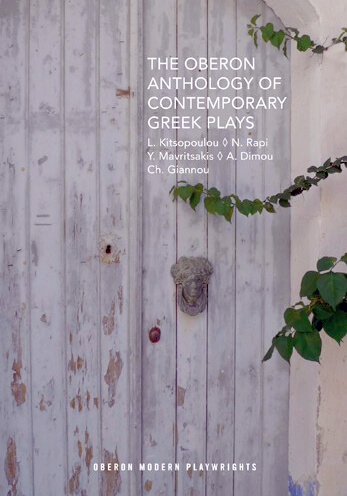 A diverse selection of plays from the nineties, noughties and 2010's from a range of established and up-and-coming playwrights based in Greece. The collection includes a foreword and introductions to each play by prominent academics in Greek contemporary theatre including:
M.A.I.R.O.U.L.A by Lena Kitsopoulou, translated by Aliki Chapple (2012)
Angelstate by Nina Rapi, translated by the author (2015)
Wolfgang by Yannis Mavritsakis, translated by Christina Polyhroniou (2008)
Hungry by Charalampos Giannou , translated by the author (2016)
Juliet by Akis Dimou, translated by Elizabeth Sakellaridou (1995)
Find this Greek book online here
Words of Wisdom from Ancient Greece
Various. Translated by Alexander Zaphiriou
Words of Wisdom from Ancient Greece gathers the best of a thousand years of philosophy, history and literature, in a compilation of writing spanning from 800 BC to 200 AD. With selections from the five major schools of Greek thought; the Platonists, the Aristotelians, the Stoics, the Epicureans and the Sceptics. This survey of ancient wisdom offers guidance for a life well lived from luminaries of Greece's legendary past.
Find this Greek book online here
Novel and Other Poems
By George Seferis. Translated by Roderick Beaton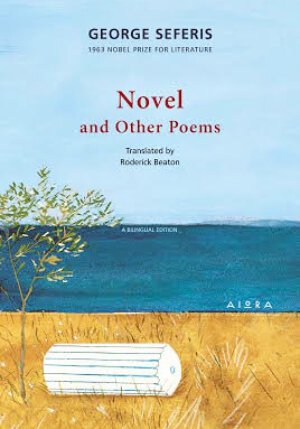 Often compared during his lifetime to T.S. Eliot, whose work he also translated and introduced to Greece, George Seferis is noted for his laconic, dense and allusive verse in the Modernist idiom of the first half of the 20th century. At once intensely Greek and a cosmopolitan of his time (as a career-diplomat as well as a poet), Seferis better than any other writer expresses the dilemma experienced by his countrymen then and now; how to be at once Greek and modern. The translations that make up this volume are the fruit of more than forty years of work, and many are published here for the first time.
Find this Greek book online here
The Selected Letters of Nikos Kazantzakis (Princeton Modern Greek Studies)
Edited and translated by Peter Bien
As 2017 marks 60 years since the passing of Nikos Kazantzakis, this is a rare and fascinating insight into the man himself beyond his many controversial works.
Edited and translated by Kazantzakis scholar Peter Bien, this is the most comprehensive selection of Kazantzakis's letters in any language. One of the most important Greek writers of the twentieth century, Kazantzakis (1883-1957) participated in or witnessed some of the most extraordinary events of his times, including both world wars and the Spanish and Greek civil wars. As a foreign correspondent, an official in several Greek governments, and a political and artistic exile, he led a relentlessly nomadic existence, living in France, Czechoslovakia, Austria, Germany, Italy, Spain, the Soviet Union, and England. He visited the Versailles Peace Conference, attended the tenth-anniversary celebration of the Bolshevik Revolution, interviewed Mussolini and Franco, and briefly served as a Greek cabinet minister, all the while producing a stream of novels, poems, plays, travel writing, autobiography, and translations. The letters collected here touch on almost every aspect of Kazantzakis's rich and tumultuous life, and show the genius of a man who was deeply attuned to the artistic, intellectual and political events of his times.
Available for Kindle and hardcover.
Find this Greek book online here.
About the editor – Peter Bien is Professor Emeritus of English and Comparative Literature at Dartmouth College. He has translated many of Kazantzakis' books into English and is the author of Kazantzakis and the Linguistic Revolution in Greek Literature.
A Dictionary of Classical Greek Quotations
Edited by Marinos Yeroulanos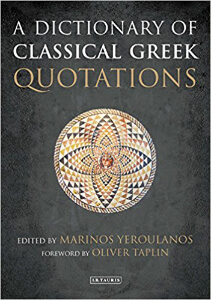 'Human wisdom is of little or no value', wrote Plato in his Apology. And yet the ancient Greeks, including Plato himself, more than any other people of antiquity were fascinated by the pursuit of the wisdom they called philosophia. That search for knowledge involved an extensive use of maxims and quotations, as we can see from those expressions of Homer prefaced by the phrase 'as people say'. Homer, the Seven Sages and the Pre-Socratic philosophers are still extensively quoted in all the major western languages. Yet for all their popularity, until now there has been no single resource to which interested readers might turn. This unique reference book offers one of the most comprehensive selections of Greek quotations ever committed to print. With its English text matched by the original Greek, the volume collects 7500 entries, ranging from the archaic period to late antiquity, and across philosophy, drama, poetry, history, science and medicine, each indexed with key words to enable fast sourcing. Together, these selections provide an incomparable insight into the glories of Greek civilization.
Available in hardcover.
Find this Greek book online here.
About the editor – Marinos Yeroulanos is a member of UNESCO's National Committee and a past President of the Benaki Museum in Athens, where he lives. He specialises in the study of ancient Greek literature and other aspects of the culture of antiquity. He has also led a distinguished career in business and public life.
Rebetika – Songs from the Old Greek Underworld (English edition)
Edited by Katherine Butterworth & Sara Schneider
Excerpt:
Until 1920 the rebetika were sung exclusively within the [Greek] underworld. This urban subculture was a segment of the lowest socioeconomic class in Greece, and its members were known as rebetes or manges.
In this second and revised edition, lyrics of more than fifty songs from the first half of the 20th century appear in Greek and English, along with informative essays exploring the music of the rebetika.
"…[A] world of hash dens, junkies, brothels and songs wherein historical figures like Socrates and Xerxes occasionally make bizarre appearances among the trams and hookahs, and death is still called Charos, a corruption of Charon in ancient mythology," – The Athenian
This book was originally published in 1975.
Find this Greek book online.
About the editors – Katherine Butterworth is the founder and director for 25 years of "Study in Greece", an accredited college study program for juniors and seniors in Athens, based on contemporary Greek life, and as such the first of its kind. Katherine now lives in California.
Sara Scheider studied English Language and Literature at Trinity University in San Antonio, Texas. She came to Greece on holiday in 1972 and stayed. Why Athens | Greek Books
The Holy Madness of Modern Greeks
An Introduction to the Ways of the Greeks
By Theodore Pagiavlas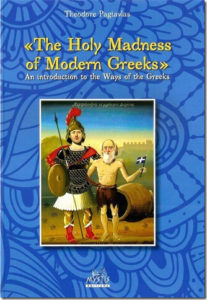 Greece's landscape, history, music, poetry and other cultural facets are put into focus to better understand the mentality and behaviours of modern day Greeks. If you've grown up with Greeks, have Greek friends or travelled to Greece, Theodore Pagiavlas might just have the answer to some of your unanswered questions about the Greeks around you, with comical images and anecdotes that many will appreciate or identify with. This book also provides a critical look at what forms and constitutes the ways of contemporary Greeks, what makes them feel different from others and a glance at everything they love and would prefer to avoid.
Find this Greek book online.
About the author – Having studied journalism, cinema and political science in Athens, Geneva and Paris, Theodore Pagiavlas has worked as a journalist and continues to write short stories and stories for children. He is also a craftsman and contemporary ceramicist and lives in Chania, Crete. Why Athens | Greek Books
The Real Greek Yogurt Book (English Edition)
By Ilias Fountoulis
Commissioned by Annie Blana publishing.
Renowned Greek food journalist and gastronomy lover, Ilias Fountoulis recently teamed up with his good friend and cookbook publisher, Annie Blana to produce this beautiful chronology and authentic guide to Greek yoghurt. As one of the world's most favourite foods, Fountoulis explores the ancient history of where traditional Greek yoghurt making began, taking readers on a journey through the beautiful landscapes of Greece to explore the varieties and characteristics of authentic Greek yoghurt. Historical extracts along with modern day production techniques are thoughtfully interwoven with stunning imagery and delicious sweet and savoury yoghurt recipes. A perfect gift from Greece for discerning food lovers. Available in hardcover. See a preview here.
Find this Greek book here:
Click here for the USA & Canada
Click here for Europe
Click here for the UK
Click here for Australia & NZ
About the author – Ilias Fountoulis grew up in Athens. His family descends from Ikaria and part of Arcadia. He studied Horticulture at Aberdeen University in Scotland and holds a Master's degree in Global Livestock production. The past ten years has seen Ilias work as a food journalist with an interest in local Greek produce. He has written for many gastronomy publications (Olive, Cook Book, I Cook Greek, Real Food) and has made several TV appearances on Greek cooking shows and more recently as a talented stand up comedian. Why Athens | Greek Books
On the Unhappiness of being Greek
By Nikos Dimou
English, French, German, Spanish, Bulgarian, Polish and Italian translations available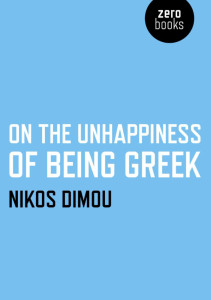 In his 2012 postscript, Nikos Dimou writes, "People who enjoy reading this book are probably not Greek. For a Greek, this book is painful. He may smile at some aphorisms, even laugh sometimes, but closing it he will feel well…unhappy."
First published in 1975, 'On the Unhappiness of being Greek' was written in the dark years of the Greek junta and published after its fall in 1975. It became an overnight bestseller in Greece and is currently in its 32nd edition having sold over 120,000 copies. The book earned Dimou the label of anti-Hellene and was called a traitor. While he is at times viciously blunt and while many of his observations are clearly debatable, Dimou insists his love for Greece is great.
In his postscript, Dimou says, "This book is not a humorous collection of aphorisms about the shortcomings of Greeks – but a bitter reflection on their tragic destiny of being split among the past and present, north and south, east and west. It is a declaration of love for Greece, the true, the profound Greece – and not the superficial land of myths that Greek themselves have created in order to escape from reality. By no means is it the work of an "anti-Hellene" but the product of a man who cares deeply for his country, and tries to help his fellow citizens fulfil the Delphic motto: "know thyself".
"Greece's present predicament is to a large extent the result of all these flaws. More emotional and less rational, a Greek must re-think himself in order to survive in the modern world. This book tries to help him on the way."
Dimou recently wrote an essay titled, 'The Apology of an Anti-Hellene' in response to his critics.
About the author – Nikos Dimou was born in Athens in 1935. He studied English and French literature in Athens and Philosophy in Munich and has published 61 books: among them essays, short prose, satire, philosophy, poetry, and political theory. His book, On the Unhappiness of Being Greek (1975), currently in its 32nd edition with over 120,000 copies sold, was published in Germany (Verlag Antje Kunstmann, 2012), France (Editions Payot & Rivages, 2012), UK (Zero Books, 2012), Italy (Castelvecchi, 2012), Spain (Anagrama, 2012), Bulgaria (Orange Books, 2016) and Poland (Książkowe Klimaty, 2016). The Albanian (Botime Pegi) and Turkish editions (Istos) are forthcoming. His collection of essays titled, Die Deutschen sind an allem schuld, was published by Verlag Antje Kunstmann in 2014. Photograph: Vladimir Rys | Greek Books
Something Will Happen, You'll See
By Christos Ikonomou
English, French, Italian, Croatian, Spanish and German translations available
The recipient of the prestigious 'Best Short-Story Collection State Award', Christos Ikonomou's bestseller, 'Something Will Happen You'll See' is a heart wrenching elegy on the impoverished working class Greeks populating the neigbourhoods around Piraeus, the largest port southwest of Athens. Ikonomou's luminous and poignant short stories centre around laid-off steelworkers, warehousemen, families, pensioners, and young couples faced with sudden loss and turmoil. Between docks, in tenement buildings and on city streets, Ikonomou's men and women sustain their traumas on flickers of hope in the darkness and on their deep faith in humanity. An illuminating examination of the human condition, Ikonomou's award-winning book has become the literary emblem of the Greek crisis; stories so real, humane, and haunting that they will stay with the reader long after the final page.
Find this Greek book here.
About the author – Christos Ikonomou was born in Athens in 1970. He has published three collections of short stories, The Woman on the Rails, (Ellinika Grammata, 2003), Something Will Happen, You'll See, (Polis, 2010) and All Good Things Will Come From The Sea, (Polis, 2014). Something will Happen You'll See has won the prestigious Best Short-Story Collection State Award and became the most reviewed Greek book of 2011. It has been translated into German (CH Beck, 2013), English (Archipelago Books, 2016), Spanish (Valparaiso, 2016), French (Quidam, 2016), Croatian (VBZ, 2016) and Italian (Elliot Edizioni, 2016). All Good Things Will Come from the Sea has been translated into Italian (Elliot Edizioni, 2016). The French (Quidam) and US (Archipelago) editions are forthcoming. Photograph: Julia Puga | Greek Books
Why I Killed My Best Friend
By Amanda Michalopoulou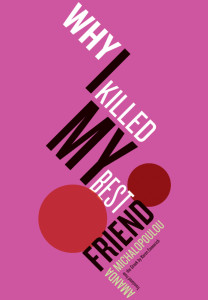 'Why I killed My Best Friend' recounts a friendship of the kind that marks us for life. Maria is just a child in the late 1970s when she's uprooted from the home she treasures in Nigeria and returns with her parents to Athens. Her life is changed forever when she meets Anna, an angelic-looking classmate who is also a refugee, albeit from vogue Paris. Anna is a strange creature whose outer beauty disguises a passionate, ruthless and politically volatile mind. The novel tracks their unpredictable relationship through their adolescence in the 1980s to one character's untimely end.
Find this Greek book here.
About the author – Amanda Michalopoulou was born in Athens in 1966. She studied French literature in Athens and journalism in Paris and has worked for many years as a columnist for Greek newspapers. She has published six novels, three short – story collections and many children's books. She has received the Revmata Award for her story "Life is Colorful outside" (1994) and the Diavazo Award for her highly acclaimed novel Yantes, Wishbone Memories (1996). The American translation of her book I'd Like won the International Literature Prize from the National Endowment for the Artsand was nominated for the Best Translated Book Award from the University of Rochester. Her novels, short-stories and essays have been translated into ten languages. Her novel Why I Killed my Best Friend was published by Open Letter, USA in April 2014. Photograph: Dimitris Tsoumplekas | Greek Books
Read any good Greek books lately? Email us if you think something should be on our Greek reading list : [email protected]
This post was not sponsored in any way but we may earn a small commission from Amazon or Apple for any books sold to assist us in running this site.