Most European cultures have their version of doughnuts but Greek "loukoumades" (lou-kou-ma-des) would have to be the most sinful. If you're going to indulge then you might as well have the best. These delectable, fluffy balls of dough will satisfy your deepest sweet cravings. We've chosen three of the standouts in central Athens.
KRINOS LOUKOUMADES
Since 1923
Located in an impressive neo-classical building that was once Athens' first pharmacy (from 1855), Krinos have been serving their special recipe of loukoumades for more than 90 years. The ingredients used is also part of the legacy (and flavour), where the same small-scale producers of the last few decades, continue to supply their raw materials.
It was in 1923 that Minas Kassimatis purchased the building from the city, converting it into a confectionary palace, the first mega-store of its kind in Athens. Kassimatis introduced exotic sweets from his homeland in Asia Minor, but it was their loukoumades that ultimately captured the hearts of Athenians.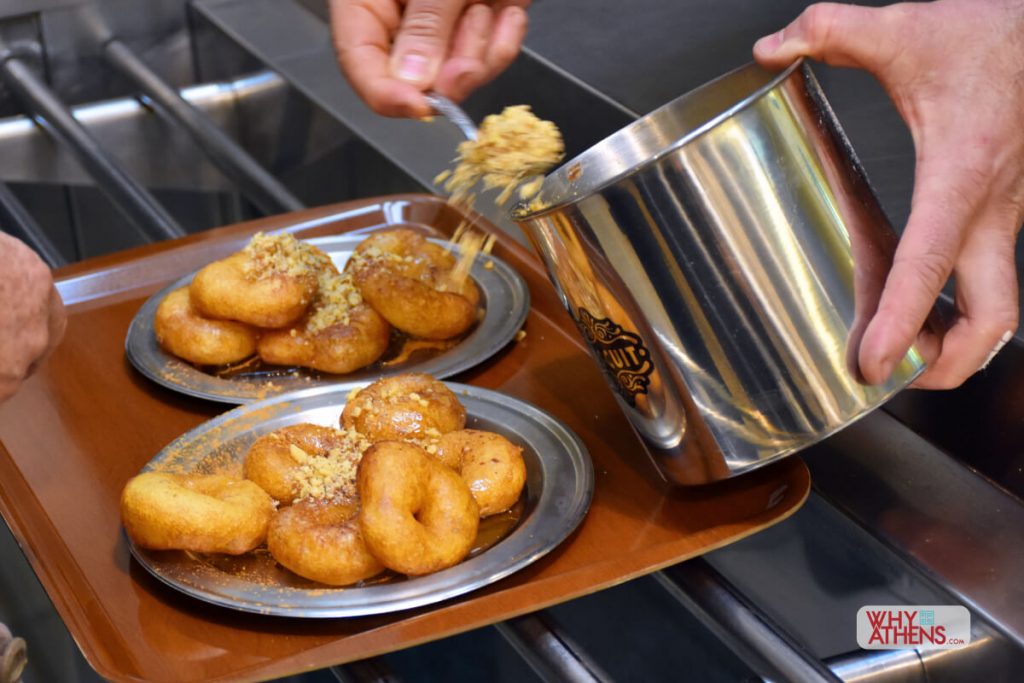 Today you can enjoy these Greek style doughnuts, that are made in front of you as you place your order. Most prefer the traditional way, with honey syrup, cinnamon and crushed nuts. It's a privilege to not only taste a bit of old Athens but to do so in one of its original cafeterias that brought so much pleasure to this city and its citizens of the 20th century.
Open: Mon, Wed, Fri 8:30am – 5:00pm | Tue, Thurs, Sat 8:30am – 9:00pm | Closed Sundays
Address: 87 Aiolou St, Athens
For the taxi driver: Αίολου 87, Αθήνα
Closest metro station: Monastiraki
KTISTAKIS LOUKOUMADES
Since 1912
Ktistakis, centrally located in Omonia, was established in 1912 and a favourite among Athenians. The Cretan recipe for their Loukoumades has been passed down to the third generation of Ktistakis' and has remained one of the great mysteries of the city. You too will wonder how they get the honey inside the doughnut (we checked, it's not with a syringe). They're served the traditional way; at room temperature with cinnamon and sprinkling of sesame seeds on top, with an obligatory glass of water. You can eat in or have them boxed for later.
Open: Mon – Sat 9:00am – 8:30pm | Closed Sundays
Address: 59 Socratous St, Omonia
For the taxi driver: ΚΤΙΣΤΑΚΙΣ, Σωκράτους 59, Ομόνοια.
LUKUMAΔΕΣ
For the hipster version, head to Lukumades on Agias Irinis Square, where you can choose from every kind of variation your devilish self can think of including, chocolate drizzled toppings or with scoops of delicious ice-cream. If you haven't tasted the classic Greek mastiha (a resin from the mastic tree) ice-cream, here's your chance.
The shop is cleverly positioned near the trendiest square and night spots. Eat-in (limited seating) or take away.
Open: daily 8:00am till late
Address: 21 Aiolou St, Agias Irinis Square
For the taxi driver: LUKUMAΔΕΣ, Αιόλου 21, Αγίας Ειρήνης
Still hungry? See the latest on the street food scene in Athens.