There is no word for hangover in Greek which says a lot about the culture and how Greeks like to enjoy a drink; slowly, with a few nibbles or meze to share over several hours. Athens nightlife, much like the food scene, has evolved into a world class affair and after you've visited one or two places, you can't help but think the city's revival is well underway. The latest figures reveal new permits for food, coffee and drink venues have more than doubled over the last 5 years in Greece.
The nightlife scene in Athens has become a collection of sophisticated hot spots that draw in big crowds of both visitors and locals. The sleek interiors, quality food, celebrity DJs, and inventive cocktails are all big draw cards but what is unique and fabulous about the bars in Athens is they open during the day for coffee, snacks or desserts. The nocturnally inclined need not worry, as they remain open until very, very late.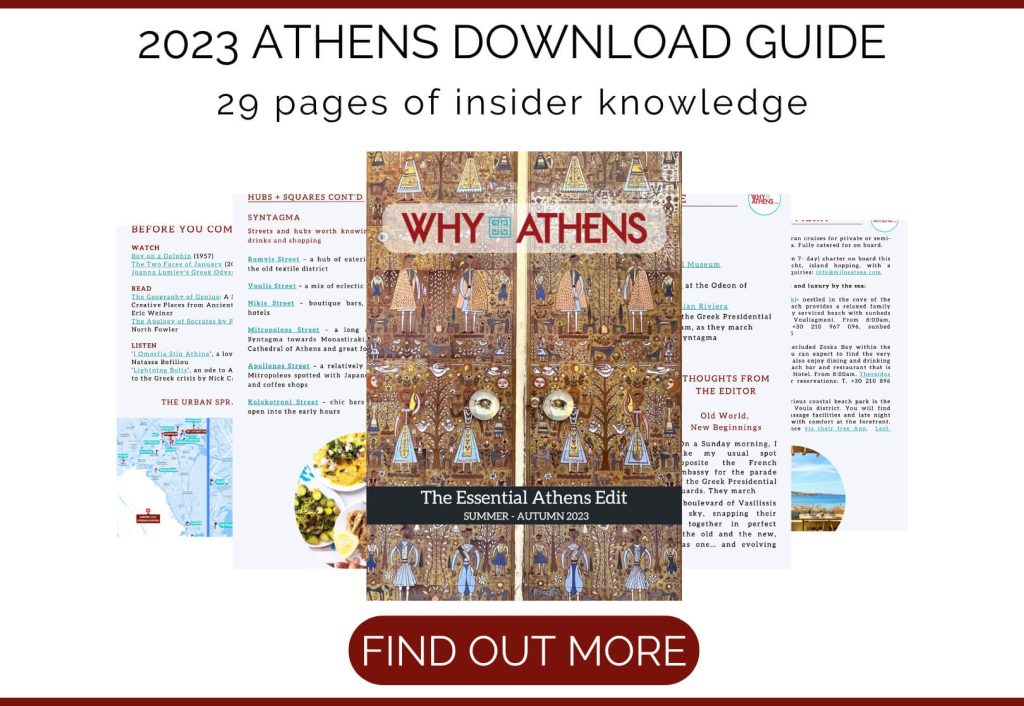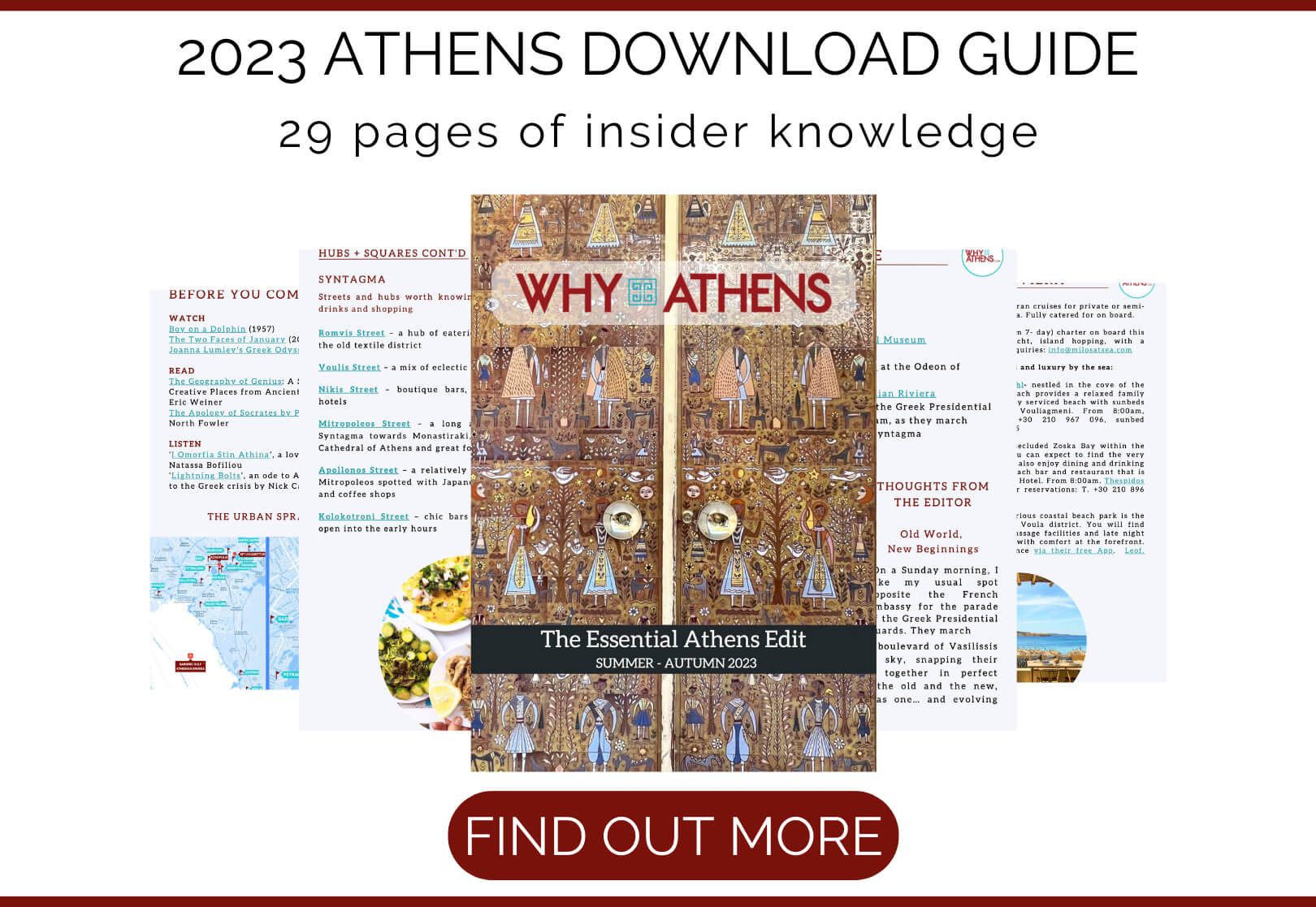 Here are our picks of the best bars in Athens that are trending right now.
CENTRAL ROOFTOP BARS IN ATHENS
360 Cocktail Bar
2 Ifaistou, Monastiraki Square
Perched above Monastiraki square, 360 Bar lives up to its name, providing a 360 degree view of the city and one of the best rooftop experiences in central Athens. Drop in for a coffee during the day or a late night drink. With an upbeat summer atmosphere, it has an extensive cocktail list. The "fragola spitz" is a nice one to get into the summer spirit. Easy access to explore more of Monastiraki or Plaka.
A For Athens
2 – 4 Miaouli St, Monastiraki
Another of the quintessentially Athenian all day bars that faces Monastiraki with expansive views of Plaka and the Acropolis. Its rooftop terrace sits above their accommodation facilities. Friday and Saturday nights are no doubt the busiest nights, attracting a younger mixed crowd of locals and tourists. Cocktails come from award winning bar tender Theodore Pyrillos. Ideal day time stop for refreshments and to capture some great city shots.
Couleur Locale
Normanou 3, Monastiraki
Couleur Locale was the best-kept secret last year. An all day venue close to Monastiraki station, where you can admire the Acropolis from their rooftop terrace with great views of old Monastiraki. Guest DJs and live music gigs on Sundays has attracted a local following. Cool cocktails and casual bar food on offer as well.
City Zen
City Zen is another of our favourites, fulfilling the undying demand for all day rooftop bars with sprawling views of the city. Offering a quirky industrial setting, with old sewing machines and other vintage objects placed on the walls, the bar is spread over two levels, with the open-air roof terrace always full during summer. Escape the hustle and bustle on the ground, and take it all in from above.
CENTRAL ATHENS NIGHTLIFE
The Clumsies
The Clumsies has been voted three times in a row as one of the world's best 50 bars for 2015, 2016 and 2017 by Drinks International Magazine. Located in a beautifully restored neo-classical building, The Clumsies is an all day bar offering high-end cocktails and premium spirits. It attracts a cool crowd of all ages and offers an extensive unpretentious menu from breakfast through to dinner, making it a quasi restaurant and a great spot for a coffee break during the day.
Drunk Sinatra
This hidden all day bar with its vintage theme is located close to the popular night spots of Kolokotroni Street and has been a hit with the locals from the day it opened. Paying homage to old "blue eyes", this long narrow bar sees patrons spilling out onto the pavement, where additional tables and chairs are set up and are well serviced. Its décor and cocktail list are inspired by the '50s and '60s and has a fun relaxed atmosphere. Many start the night here before moving on to the next hotspot.
Up and down Kolokotroni Street
Kolokotroni Street, which runs from Syntagma towards Monastiraki, around the back of Agias Irinis Square, is where you will find Athens nightlife at its best. Open until very late, the bars along this road are buzzing and you will find something completely different in each one. There are a few standouts, starting with Barley Cargo, where you can enjoy a beer from a list that includes 200 bottled labels with a focus on Greek microbreweries. Opposite at The Bank Job, is a small ex-bank vault that is now a polished and sophisticated bar, with funk and soul music. It is so hip and happening right now, you'll struggle to find standing room inside. A little further down the road, Booze Cooperativa offers a bit more grit and you can spread out at their communal tables and listen to the resident DJ or be lucky enough to catch a live music performance. Finally, Noël which can be found in Kourtaki Arcade, set back slightly from Kolokotroni, is one of the newest additions on the street and the city's signature lounge bar. With a hip crowd and festive inspired décor, it is Christmas everyday at Noel. You will find delicious pizzas and sexy cocktails on the menu.
Agias Irinis Square
It's likely that you would have read about Agias Irinis Square in at least one city guide of Athens and it is definitely the place to be if you want to mingle with the cool crowd. The surrounding area, which is close to Monastiraki, is also home to the textile trade. Tailor Made opened its doors in 2011 and remains a firm favourite with locals. Vintage sewing patterns decorate the walls giving a nod to the area's heritage. By day, it doubles as a 'micro roastery' and draws in a late afternoon crowd with their delicious coffee blends and freshly made desserts. By night, the bar is pumping out first class cocktails in gorgeous crystal glassware at very reasonable prices. This is a great place to kick off a night out in Athens.
A short walk out of the main square and you will find Chaplin which opened in late 2014 and has gained a reputation for its cocktails that are boosted with super-foods including Acai and Goji berries. Visiting celebrity DJ's also draw in the crowds. Around the corner along Korori Street is Monk wine bar, offers an entirely different pace. A sophisticated and elegant space with an upmarket wine list titled, Monk: Holy Grapes for Sin Spirits. Bottles of wine are decanted at your table, so it is very much the real deal here and you can also try a few varieties by the glass. An extensive food menu and moody jazz music can easily see you settling in and making a night of it here. Their rooftop space doesn't have commanding views over Athens but provides a casual and chic atmosphere and a quintessential Athenian way to enjoy cocktails or some wine from their refined selections.
Baba au Rum
A few twists and turns away from Syntagma Square near the hip and happening Romvis St, you'll find Baba au Rum that was established by Thanos Prounarous, a pioneer in the Greek bar scene. Having won several awards over the last few years and listed as one of the best rum bars in the world (The Rum Society) this eclectic bar has become renowned for its premium selection of rum and other spirits. Exotic drinks are mixed with organic herbs and unexpected spices. Non-alcoholics will appreciate an impressive list of homemade artisanal sodas. Baba au Rum definitely has the secret recipe to remain part of Athenian society for quite some time.
Six D.o.g.s
6 – 8 Avramiotou St, Monastiraki
Six d.o.g.s is an all day and night cultural space located on a side street close to Monastiraki. The owners recently established their own record label and so it's no surprise that this nightspot is a hub of live music with guest DJ's and concerts by local and international musicians. A pumping bar serves drinks until very late or early into the morning. This is a one of a kind hotspot in Athens that also supports the local art scene with regular exhibitions and art installations.
Speakeasy
Lekka 12, Syntagma
A relatively new addition to the Athens bar and nightlife scene and one of our favourites for the cooler season. This 1920s-30s American style bar which is close to Syntagma Square, likes to play with the notion of a secret society and the days of prohibition. It's the first of its type to hit the capital and similar to the ones you'll find in London and Paris. Located underground, there's a bit of effort involved to find the entrance, as there is no signage. Once inside, you'll need to walk down a flight of stairs and decide on the next correct door. If you get that far, you've done well and deserve a drink! Bespoke cocktails await with DJ sets and live music. Get there late (after 10pm) for a buzzing atmosphere.
KOLONAKI NIGHTLIFE
The upmarket suburb of Kolonaki is a must visit and a great reason to pull yourself away from Plaka or Monastiraki. A ten-minute taxi ride from the city centre, Kolonaki is one of the oldest suburbs of Athens that mixes the classic with the new perfectly. This is also true with its restaurants and shopping. La Esquina can be found in the pedestrianised area of Haritos Street that is surrounded by several trendy casual eateries. It is a popular choice for cocktails and usually gets going after 10pm. Also check out bars along the the pedestrianised strip of Tsakalof which includes the local favourite, T5. Along the main road of Patriarchou Ioakim, you'll find a buzzing cool crowd at Zurbaran and Marconi's.
GAZI NIGHTLIFE
This old gasworks precinct is located about a ten-minute drive west of central Athens. Popular with students you will find upmarket street food and 'neo tavernas' reinventing Greek cuisine. O2 (formerly Hipster) is a rooftop bar offering extraordinary views looking back at the Acropolis and the city of Athens. If you want to get a more local vibe then head off the main drag, down Sofroniou Street where Flamme Rouge (named after the Tour de France's red flag) has dedicated its all day café/bar to a quirky cycling theme and memorabilia. Bicycle frames hold up tabletops and a large garden with hammocks and comfy sofas make this a very chilled out bar to enjoy a drink and discover a different part of Athens. Roof 45 is another rooftop bar with a cool vibe and Acropolis views. Locals head to Gazarte, the multi-story cultural space with live music on its rooftop stage.
See what's on when you're in town.
Useful Greek words around drinking
Birra: Beer
Krasi: Wine
Alo ena parakalo: Another one please
Mia birra parakalo: A beer please
Pame yia barotsarka: Lets go bar hopping
Pame yia poto: Lets go for a drink
Find more basic Greek phrases here.
This post was not sponsored in any way and as always all opinions are our own.