Buying property in Athens has never been more enticing. It's a city blessed by the gods with its crystal blue coastline, magical sunsets and mountainous landscape. But before you sign on the dotted line in a post-holiday haze, it helps to do some homework.
Greece has traditionally been a nation of land or home owners who proudly passed on the property deeds to the next generation through death or marriage. But as the realities of the Greek economic crisis set in, high unemployment and the collapse of the real estate market quickly followed, leaving many to inherit debts and taxes they couldn't service and properties they couldn't maintain.
With low residential prices and high yielding short-term rental income, investment from overseas buyers has surged in recent years, allowing many to realise their dream of owning a summer holiday pad in Greece and indeed, Europe.The five year residency visa via Greece's Golden Visa programme has also helped push things along. Enterprise Greece estimates one billion euros have been invested in the overall real estate market in Greece, since the programme began in 2013.
In 2023, in order to meet the high demand for properties in Greece, the programme doubled the golden visa limit to 500,000 euros from 250,000 euros. Greece's investor visa program grants five-year residency rights for third country nationals who purchase, individually or through a legal entity, property in Greece valued at a minimum of 500,000 euros. Under the recent changes, only one property can be purchased for the set amount. The new limit applies to property purchases in the central, northern and southern sectors of Attica. Indicative areas where investor visa limits have increased include the wider Athens area and suburbs such as Melissia, Penteli, Nea Penteli, Kifissia, Nea Erythrea, Ekali, Halandri, Agia Paraskevi, Nea Ionia, Cholargos-Papagou, Filothei, Psychiko, Neo Psychiko, Alimos, Glyfada, Palaio Faliro and central Athens, among others.
Why Athens and why now?
Athens offers an easy lifestyle against the backdrop of a buzzing and dynamic city that is steeped in history and legacy. The harsh economic climate has seen some positive change and exciting developments in food, art and culture, providing a much more rounded urban experience and making it one of the most exciting cities in Europe right now. The sea and its southern coastline of Blue-Flag beaches are easily reached from the centre, as are the many hills you can climb to admire its beautiful landscape from above.
Peering through a wider lens, things are looking up for Athens, with increased flights, strengthening tourism numbers and new hotel and residential developments, you simply can't help but be optimistic. The newly built Stavros Niarchos Foundation Cultural Center has been the most ambitious cultural and architectural project to date. The €617 million development by the prominent Greek shipping family, was the largest donation made to the city so far.
Many central suburbs are in the midst of a reboot too, as gentrification takes hold in various pockets around town. The southern coastal districts from Piraeus to Vouliagmeni will get a boost thanks to recent plans to transform the major shipping and passenger terminal of the Port of Piraeus and its surrounding area. Plans are also in place to finally resurrect the former Athens airport near Glyfada, into a modern hub of residences, retail and leisure facilities.
The urban sprawl of Athens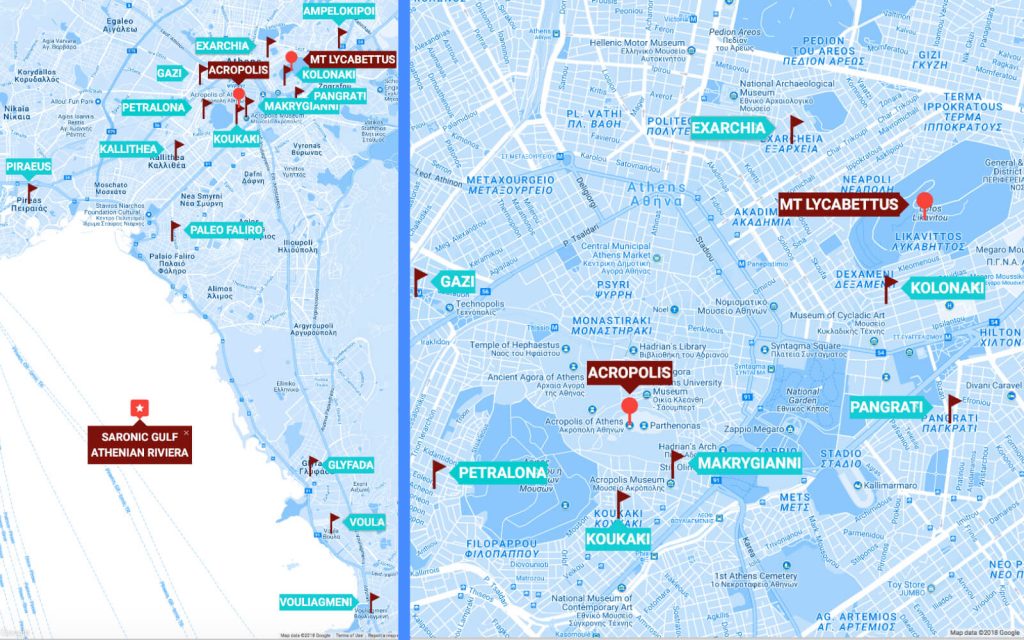 Be prepared and do your homework
It goes without saying that you should find a reputable team of professionals to guide you through the purchasing process. You'll need a lawyer to protect your rights and represent you in contract negotiations and a notary when you are in the final stages of closing and transferring the property. When purchasing existing property, it's also wise to have an architect and engineer conduct an inspection to make sure your property is structurally sound and complies with relevant laws and regulations.
Non-EU residents must demonstrate their connections with Greece and their intent for property use. This application is made to the Ministry of National Defence and involves a submission of documents. EU residents will have almost no restrictions in purchasing a property in Greece.
Fees
There are a number of additional and up-front fees to consider and some of the standard ones include:
A property tax transfer

set at 3 per cent* is paid for by the buyer. You will need to get a Greek equivalent to a social security number, which you can obtain by filling out various tax forms (*note this transfer tax is subject to change at anytime and you should consult your lawyer for the latest percentage).

Real estate agency or agent fees

are usually between 1.5 – 2.5 per cent of the sale price and you should be aware that Greek real estate agents often represent both the buyer and seller. Many transactions in Greece happen privately to avoid these costs and property owners can advertise and represent themselves.

Notary and lawyer fees

could either be a set cost or be anywhere up to 1 per cent each of the total transaction value (plus 24 per cent VAT).

Look out for exchange rates

when paying for your property, which will vary from bank to bank.
Note – This is not an exhaustive list and depends on what consultants and advisors you decide to retain. Government charges may also change from time to time.
An experts perspective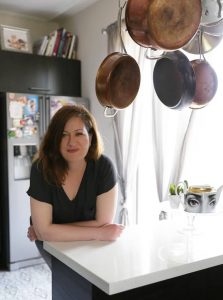 Architect-engineer and property consultant, Katerina Sirouni has assisted many overseas buyers through the myriad of paperwork and overcoming language barriers to purchasing real estate in Athens and all around Greece. We reached out to Katerina to get her insights and experience on buying property in Athens.
Katerina, as an architect-engineer and property consultant, how can you assist overseas buyers in the purchasing process?
I usually come in when the client has decided on or has narrowed down options of properties they are interested in. The next important step potential buyers must keep in mind, is to make sure that the property they are buying is lawful. When selling Greek land or buildings, all owners are required to provide a Building ID Code Certificate which is proof that the property complies with all laws and describes all technical data relevant to the property. Before issuing this final certificate, any violations that do not agree with the permit, must first be legalised through the current law in effect, (Law. No. 4495/17). This is where I step in on behalf of my clients. I will conduct a legal check to verify if all built structures comply with lawful building permits. An example of an illegal structure could be an enclosed veranda that was built without a permit. If illegal structures are identified, this should not be considered as a deal breaker. Before the purchase is completed, the seller can legalise their property by paying an applicable fine, after appointing an architect-engineer to handle the process.
Where do people commonly find properties advertised for sale in Athens?
The most common methods are through real estate agents and less often privately. Walk-by signage is also effective especially if you have the time to explore areas. I always suggest clients walk or drive around neighbourhoods they are interested in during the day and also in the evening.
What is a realistic timeframe for someone from overseas coming to Athens to buy a place from scratch. Do they need to be physically present the entire time?
The time needed to negotiate the purchase deal and conclude the actual property transfer differs for every transaction. I have worked on cases that took one month and others that went on for six months. Delays can be expected when dealing with property where extra enclosed areas have been added illegally and the process to rectify this can take some time. Foreigners do not have to be physically present in Greece for the final closing, appointing a Power of Attorney is equally efficient.
What are the general steps to securing a property?
To secure the purchase, a down-payment of up to 10 per cent (depending on the property value) is usually deposited by the buyer but is not mandatory. Once negotiations have been concluded, the owner gathers all tax, legal and technical documents that are required. Once the purchase-transfer tax is paid for by the buyer, the purchase is ready to go. Keep in mind, once the purchase-contract deed has been signed, it must be registered with the relevant Hellenic Cadastre and/or the Mortgage Registry depending on the location of the property. Only then, does the buyer obtain full ownership rights.
Can you explain how apartment buildings are maintained through strata schemes or owners groups?
Apartment buildings are made up of separately owned units, often referred to as condominiums by many foreigners. Within the apartment building, there are also common use areas, jointly owned by all owners. Each owner of an apartment owns a certain percentage according to the Deeds of Establishment of the building and transferred upon purchase. Maintenance, amenities and utilities of these areas are paid for collectively by owners (or renters) depending on the ownership entitlements of each unit. Common use funds are handled by one of the owners, referred to as the "Diaxiristi" or an appointed management company in many cases. Decisions on how funds are distributed and used are made in the owners general assembly meetings. A common issue in many older apartment buildings in Athens, is central heating, which is usually not connected due to the high running costs. Owners will usually need to arrange for their own independent heating system in compliance with the Deeds of Establishment.
What things are there to be aware of if an apartment or property needs renovating?
Besides the actual hard cost of materials, there is of course worker's wages and contractor fees. It's a good idea to have a contingency budget in place too. When redesigning and upgrading older apartments, there are often hidden costs which only present themselves once renovation has started, especially if existing walls are being knocked down. The good news is that property owners no longer have to obtain a permit for minor repairs or upgrades. In some cases when an apartment is located in a building of historical heritage, the process can become more complicated and restrictive. This is one more reason why it's a good idea for buyers to consider appointing an architect-engineer before purchasing property, as they can potentially help quantify in advance, the cost and time involved to renovate a place.
How does the buying process in Greece differ from the rest of the world?
Buying property in Greece can be a different experience for foreigners compared to what they are used to back home where it is more common to work directly and solely through real estate agents. In most cases, buyers will work directly with local agents who have signed an agreement with the sellers to showcase the property and not agent to agent. Once you have found a place you love, your attorney or you as the buyer can negotiate the final price. The entire procedure of the closing thereafter is usually handled by your attorney, who will often speak directly with the sellers and/or their attorney.
For people who may be wanting to purchase a property with the view of holiday renting, what are some of the things they should be aware of?
One important factor owners must have in mind is that short-term or holiday rental income must be declared as if one were renting to a long-term tenant. Many property owners have tried to avoid and hide this income, which is why the government is planning to introduce an electronic platform for short-term rentals. Owners must now declare the property, names of renters and the duration of the lease on this platform. Those that do not comply, will face heavy fines.
Katerina Sirouni was born and raised in Chicago, Illinois. She is now based in Athens and is a licensed architect. She received her degree in Architecture and Engineering from the National Technical University of Athens and provides property management and consulting services for real estate matters in Greece, predominantly to non-Greek residents. Katerina is experienced in designing, constructing and renovating residential and commercial property, as well as assisting with all property-related matters such as obtaining certificates and permits. She regularly writes (in English) for various publications. You can contact Katerina directly via her website. ksirouni.com
DISCLAIMER: The information provided is general and should therefore NOT be considered as advice or consultation to act upon. Links to third-party websites do not constitute an endorsement or recommendation of products and services.